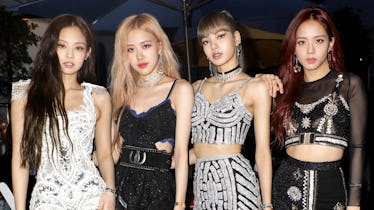 BLACKPINK Announced Their World Tour, And It Starts So Soon
Roger Kisby/Getty Images Entertainment/Getty Images
Get ready for the epic return of BLACKPINK, because the group's new album is about to drop soon. On Sunday, July 31, BLACKPINK announced Born Pink, their second full-length Korean album following The Album in October 2020. Naturally, anticipation is high from fans everywhere.
BLACKPINK first teased the new album in a May 23 interview with Rolling Stone. In a July 6 article, the group's label YG Entertainment also shared with the publication that they BLACKPINK was in the "final stages of recording" the new album.
Check out the details of the Born Pink era, including info on pre-release singles, the album release date, and their world tour below.
BLACKPINK's Born Pink Release Date
According to the July 31 announcement trailer, BLACKPINK will drop the album in September; however, a release date has not been publicized.
BLACKPINK'S Born Pink Tracklist
There's no confirmed tracklist just yet. So far, the only confirmed song on the album is their upcoming single "Pink Venom," which drops on Aug. 19.
The group's previous track "Ready for Love", which dropped on July 29, may be included on Born Pink, though there hasn't been any official confirmation.
BLACKPINK'S Born Pink World Tour
On July 6, YG Entertainment told Rolling Stone that BLACKPINK will "go on the largest world tour in the history of a K-pop girl group by the end of the year to expand their rapport with fans worldwide."
Weeks later, on Aug. 8, BLACKPINK announced they'll visit 27 cities on their 36-date Born Pink world tour, which will kick off with two performances in Seoul on Oct. 15 and 16.
After their Seoul concerts, BLACKPINK will travel to the United States for shows in Dallas, Houston, Atlanta, Hamilton, Chicago, Newark, and Los Angeles. Then, they'll tour across Europe, Asia, and Oceania.
Continue to check in here as more information on Born Pink becomes available.