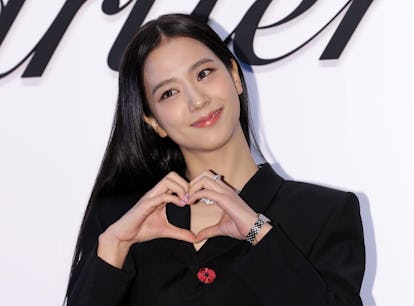 Jisoo Blossoms Into A Confident Heroine On "Flower"
The BLACKPINK singer knows what she deserves when it comes to love.
Han Myung-Gu/WireImage/Getty Images
After years of fevered teasing, Jisoo finally tapped into her solo bag. On March 31, the BLACKPINK singer dropped her single, "꽃 (Flower)," from her debut solo album ME. This release marks Jisoo as the final member of the girl group to release a solo project. With that last-place title, all eyes were on her to see what she would sonically deliver— and she did just that. Jisoo arrived in full creative bloom and reminded BLINKs that her talent is just as commanding when alone. But of course, her fans already knew that.
In January, Jisoo kicked into full independent gear when her label, YG Entertainment, announced her album would arrive in the spring. Leading up to its March release, the singer unveiled several gems about this era, including a red-hued visual film for "꽃 (Flower)." She didn't hint at the track's sound in the teaser; however, the aesthetics were piercing enough to show that confident Jisoo had entered the chat.
That fierceness gleams on this single, which sees her getting over a man who didn't treat her well. Instead of wallowing in breakup blues, Jisoo lyrically reclaims her power with the help of long-time BLACKPINK collaborators Teddy Park and VVN. Let's dive into the English translation behind this track.
"꽃 (Flower)" eases in with rhythmic intrigue similar to Shawn Mendes and Camila Cabello's "Señorita." As the subtle beat whirls in, a Latin-inspired melody rumbles underneath enough to make listeners tap their fingers. Jisoo adds another layer to the production with her warm vocals, setting the tone in the first verse that she's thriving in her newfound confidence.
"A-B-C, do-re-mi / I was as nice as that / That look in the eye changed completely perhaps / This is also a side of me," she sings.
In her last relationship, Jisoo was seemingly nice and sweet — so sweet that the thought of losing her should've been difficult for her partner. However, that wasn't the case, and she slipped right through their fingers. There's a taunting coyness in her tone here, almost as if she's aware of the power she holds. She croons,
"I fly away like a blue butterfly / It's all on you that you didn't hold on / Even the times that we were in full bloom / A lie, lie, lie to me."
That awareness glimmers in the pre-chorus, where Jisoo trades her staccato-like low notes for some breathy high ones. Here, the singer has come to terms that their relationship was far too broken to piece back together. Their fall-out "burned like crimson" fire, emanating a heat that wasn't too overwhelming for Jisoo to handle. In fact, she embraced those flames and reassured her then beau that this heartbreak can't shake her.
"Crimsonly burned down you and I / I'm okay, would you be as well? / On a beautiful day without a single cloud / There was nothing left but the scent of a flower," she coos, the final line blending into the chorus.
As Jisoo repeats the single-lined chorus, the track's production slightly ups the ante. With those infectious claps echoing in the distance, a high-pitched whine spurs in. This melodic add-in continues until the second verse, where Jisoo reminisces on how she freed herself from the relationship. The rest of the tune continues to build on the singer's emotions, her vocals wavering between a crisp falsetto and her signature deep notes until the outro.
It's clear that Jisoo knows what she deserves in the romantic department. If her new partner can't handle the fierceness she has on this track, then they're possibly wasting their time.
Check out the music video and full English translation to "꽃 (Flower)," below.