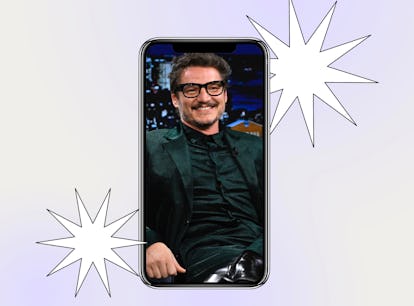 What Is Pedro Pascal's Rising Sign? An Astrologer Weighs In
It's actually up for debate on TikTok.
Sleeping on Pedro Pascal is no longer an option. Between the success of The Last of Us and the release of The Mandalorian Season 3, the 47-year-old has become the daddy of the internet, especially on TikTok. Most recently, fans have taken to the social media platform to debate something of the utmost importance: Pedro Pascal's rising sign. It's actually a big topic of discussion for those on PascalTok, so, naturally, as an astrologer, I'm here to weigh in on the discourse.
Pedro Pascal's Birth Chart
According to the Game of Thrones alum's birth chart, he's an Aries sun — since he's born on April 2 — and a Capricorn moon, but his rising (aka ascendant sign) is up in the air. In a recent MTV clip that went viral on TikTok, the Chile-born actor mentioned that, while he was certain of the zodiac signs of both his luminaries (we stan), he's been unable to determine whether he's a Gemini rising or Cancer rising, because he's not sure what time he was born. This, of course, led to fans attempting to do the work for him: Does he give off the chatty, social, quick-witted vibes of a Gemini? Or the soft, nurturing, and intuitive energy of a Cancer? If you've ever seen the actor in action, then you know the answer is yes... to both.
"I'm conflicted. The way he communicates is very Gemini rising of him," said one TikTok user. "But he's also very warm and emotional, so he could be a Cancer." A (potentially fellow) Twin responded to the MTV interview with a more firm statement, "He's a Gemini rising. We are unhinged like this."
As an astrologer who happens to be a Cancer rising — and has predicted moments like Adele's album release date purely based on astrology — I have a some thoughts.
Is Pedro Pascal A Gemini Rising?
As the mutable air sign of the zodiac, Gemini risings are the talkative, curious souls of the zodiac. They have a charming way with words, and an incredible sense of humor. This is one of the primary reasons why fans believe that this is Pascal's rising sign, since he's oftentimes found cracking jokes, chatting with fans, and networking on red carpets. Gemini risings never take themselves too seriously, and the actor's known for his sarcasm, especially on Twitter.
Is Pedro Pascal A Cancer Rising?
Cancer risings are all about emotional comfort and security, making them highly sensitive individuals. They tend to appear shy and introverted initially, but this is mainly determined by how comfortable they are in their environment. Fans believe that Pascal's a Cancer rising because he comes across as nurturing, caring, and receptive.
What Is Pedro Pascal's Rising Sign?
In my expert opinion, Pascal gives off *major* Gemini rising vibes. Not only does he appear witty and communicative, he even looks like a Gemini rising. (They tend to have elf-like features and a devilish smile.) As a Mercury-ruled sign, Geminis talk with their hands quite a bit, which is something the Wonder Woman 1984 star often does. He's also commonly found sharing his thoughts and opinions with the public, something Gemini risings live for. Then there's the fact that Pascal is bilingual, another trait that this communicative sign tends to have, since they're huge fans of language arts.
TL;DR: While the Mandalorian actor may be uncertain of his ascendant, I'm confident in the fact that Pedro Pascal is a Gemini rising.