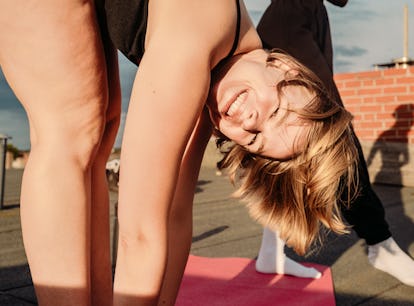 Each Zodiac Sign Has A Body Part That Goes With It
Yours will make so much sense.
You may be a long-time follower of astrology, but it may have gotten past you that each zodiac sign has a body part that goes with their sign, or a body part that has some "trigger points," so to speak. Basically, in ancient times, doctors believed each zodiac sign held influence over a certain part of your body, which could mean that you might feel pain or have medical complications in those areas — completely unrelated to how your body looks, of course. While I'm not suggesting that astrology can replace medical science, it's still rather interesting to delve deeper into where these associations originate from and what they mean.
To be completely clear, no one truly knows for sure. The earliest text about astrology was written by Marcus Manilius, a poet and astrologer who authored Astronomica, a poem in five texts that outlined the practice of astrology in medicine and in spiritual practice sometime around the early first century (circa 30–40 AD). It's in this work that the relationship between body parts and the zodiac was first mentioned.
While traditional medical practitioners might not agree that these associations have any bearing on your body, astrologers like myself say that body parts most definitely have a connection with the zodiac. In fact, these body parts can shed more light on the symbolic meanings behind each zodiac sign and how they function. After all, the experience of having a body goes far beyond the realm of science. At the end of the day, your relationship with your body is yours and yours alone. Astrology can help you refine that relationship.
Without further ado, here are the zodiac body parts, in all their glory:
This article was originally published on