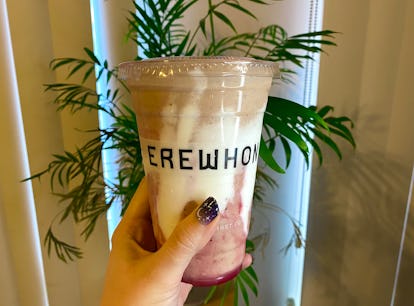 I Tried Hailey Bieber's Erewhon Smoothie & It Was Berry Good
But the cost is a biiit much, IMHO.
Rachel Chapman
It seems the expensive price tags aren't stopping people from getting the viral celebrity smoothies from Erewhon. Both Bella Hadid and Kourtney Kardashian have come out with their own Erewhon smoothie collabs, but the most popularity seems to be Hailey Bieber's Strawberry Glaze Smoothie. The blended strawberry and cream treat takes on the "glazed" trend that the Rhode Skin founder popularized in 2022, and I just had to try Hailey Bieber's Erewhon Strawberry Glaze Smoothie to review it for myself.
Of course, after taste-testing Hadid's orange creamsicle-inspired Kinsicle smoothie, I wasn't in any rush to try Hailey's Strawberry Glaze Smoothie from Erewhon. However, Reese Witherspoon recently reviewed both Erewhon smoothies with her niece, Abby James Witherspoon, and it reignited my interest. Who isn't a fan of strawberry smoothies, after all? The Strawberry Glaze is made with Malk almond milk, bananas, strawberries, avocado, maple syrup, dates, vanilla stevia, vanilla collagen, sea moss, coconut cream, and strawberry glaze all blended together. The smoothie also features hyaluronic acid, which has many health benefits. According to the Cleveland Clinic, hyalurionic acid is great for your skin and can even relieve acid reflux. As someone who always has terrible acid reflux and tired skin, those perks make this smoothie a "yes, please" in my book.
And while spending $20 on a smoothie is not in my typical budget, I'm willing to splurge a bit for something tasty that gets me one step closer to Bieber's glazed-doughnut skin.
What Does Hailey Bieber's Erewhon Smoothie Taste Like?
My biggest complaint about Hadid's Kinsicle smoothie was that it was missing the orange flavor. Whether it was just my smoothie or that's how it always tastes, it's kind of hard to enjoy an orange creamsicle drink when it's missing the orange. That was not the case with Bieber's Strawberry Glaze smoothie. With my first sip, I could immediately taste the strawberry, and it was good.
Erewhon is a luxury supermarket aimed at wellness celebrities and their fans who enjoy eating healthy over anything else. They're willing to spend $20 on a smoothie that provides unbeatable skin-boosting ingredients. However, as a foodie, if I'm going to spend $20 on a smoothie, it better be the best smoothie I've ever had in my life. While it may not have been the best strawberry smoothie I've ever had, the Strawberry Glaze ranks pretty high in my book. I would give it a 4 out of 5 ranking.
Not only was the Strawberry Glaze delicious, but knowing that it was also filled with healthy ingredients set it over the edge for me. It wasn't too sweet, and had the perfect strawberry and cream flavor. I could actually taste the strawberries, but they weren't overpowering at all. I definitely enjoyed treating myself to this smoothie on a day after I worked a huge event and didn't get much sleep, but I don't know if I would ever order it again. In fact, I was pretty upset at how much I liked it because it will probably be my last time having a Strawberry Glaze smoothie. It's just a lot to budget in a double digit smoothie when I can easily make one for myself at home.
However, it did inspire me to try making Bieber's viral pizza toast recipe from TikTok next, since I can now trust she knows what she's talking about when it comes to food.