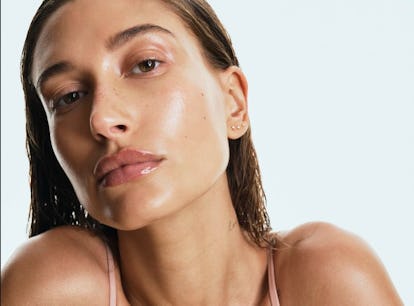 Hailey Bieber's Rhode Is Here To Help You Perfect Your Glazed-Doughnut Skin
Dunkin' is going to have to take notes.
Courtesy of Rhode
At this point, a debut celebrity skin care or beauty brand is announced seemingly every other week. While A-listers used to show off their wealth with Birkin bags, the newest way to say "I'm famous" is a serum with your name on it. The latest big name to join in the fun is Hailey Baldwin Bieber, with her skin care brand, Rhode. If you want to perfect your take on glazed-doughnut skin, get ready to take notes.
Bieber has carved out a space for herself as a skin care guru on her YouTube channel and TikTok. She's shared Get Ready With Me videos, her night care routine, and she's also been open about her acne struggles in the past. "I'd never been on birth control before, so my hormones were a little out of balance," Bieber said in a video posted to Facebook Watch. "But for me, my spot was my forehead … I'd never experienced acne like that." It took years for her to figure out what her skin needed, and now that she has, she's packaged it all up for you.
In case you're worried that Bieber just put her name on any old brand and called it a day, she's taken a very hands-on approach to Rhode, which gets its name from the model's middle name: Hailey *Rhode* Bieber. "My role in the brand is the Creative of Everything, putting together the packaging and the colors and the aesthetic," she told the Wall Street Journal. The only thing out of Bieber's immediate control is creating the formulas. Those, she leaves to the experts. However, she has a plan for everything else.
How much does Hailey Bieber's Rhode skin care brand cost?
"I know what I want to give to people," the 25-year-old said in the WSJ interview. "The whole ethos of my brand is access to really good quality products that are really affordable. I just don't see why a $200 cream has to be the answer to good skin."
Bieber echoed her statement in a newer interview with Byrdie ahead of the launch. "Just because something is more expensive doesn't necessarily mean that it works better. It really all depends on the formula," she told the brand. "When developing Rhode, I wanted to create this world that everybody has access to and feels welcome to." And she means it. All three products currently under the Rhode skin care umbrella are under $30.
We at Elite Daily only include products that have been independently selected by our editors. We may receive a portion of sales if you purchase a product through a link in this article.
Shop Hailey Bieber's Rhode Skin
What can I expect from Hailey Bieber's Rhode skin care?
Everything from the products to the packaging should feel "sporty and fun," according to Bieber. "I want to be able to throw this in my bag and take it to the beach if I want to or use it after I work out. Bring it with you wherever."
And, of course, you can expect a dewy, delicious complexion. "Glazed 🍩🍩 skin all 2022. Tell a friend," Bieber teased on Instagram in January.
For more details on Hailey Bieber's Rhode skin care brand, visit rhodeskin.com.
This article was originally published on