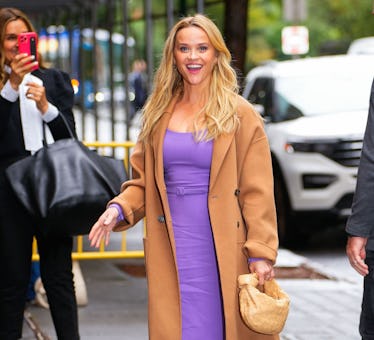 Reese Witherspoon Reviewed Hailey Bieber & Bella Hadid's Smoothies
What she really think about the Erewhon "Strawberry Glaze" and "Kinsicle."
Gotham/GC Images/Getty Images
Erewhon's it-girl collab smoothies are going viral and selling out, and they're even capturing the attention of Reese Witherspoon. Not only is she an iconic actor and producer, but she's also made her mark on TikTok as a relatable foodie by sharing occasional home recipes that range from birthday cake to cocktails. Last weekend, she brought her niece Abby James Witherspoon to Erewhon to taste-test the luxe wellness drinks and share their first sip reviews on Instagram Reels. Here's how Reese Witherspoon reviewed Hailey Bieber and Bella Hadid's Erewhon smoothie recipes.
ICYMI, Bieber and Hadid are some the recent celebs to design a wellness-inspired smoothie with the health food market Erewhon, along with Kourtney Kardashian's Poosh sip and drinks from various beauty and lifestyle influencers. The smoothies have a hefty price tag of $17 for their specialty, wellness-focused ingredients. Hadid, who just dropped her Kinsicle Smoothie in December, integrated her line of non-alcoholic spirits Kin Euphorics, which is designed to "boost immunity and restore essential nutrients." The smoothie features the Kin Euphorics flavor "High Rhode," which delivers mild caffeine and a bright citrus flavor from hibiscus and orange bitters. If you don't have an Erewhon near you, you can also try Hadid's smoothie at home by recreating the recipe.
In summer 2022, Bieber's Strawberry Glaze Smoothie made major waves in its first month, selling 36,000 orders. It's still available to sip now, and it might be on your list to try if you want a pink pick-me-up that nourishes glowing skin with hyaluronic acid, sea moss, and collagen peptides. Grab the recipe for Bieber's smoothie with the full ingredient list to make it at home. Both of the specialty smoothies are creamy, sweet, and so pretty that they're Instagrammable. @abbyjameswitherspoon captioned her and her aunt's Reels review video, tagging the two models: "you guys, it's really that GOOD!!" Within a few hours, both Hadid and Bieber reposted the playful Reel with appreciative heart emojis to their IG stories.
The Witherspoon ladies took turns tasting each of the fruity smoothies outside of Erewhon. Abby, who went first, coincidentally wore a pale pink and blue outfit that went perfectly with her Strawberry Glaze Smoothie. Behind the camera, Reese can be heard asking, "What's the first sip?" In her initial reaction, Abby's eyes brighten before she says, "So good." *Big sip.* She added, "It tastes like strawberry ice cream" referencing the Erewhon smoothie's blend of strawberries, vanilla, and sweet coconut cream.
Moving on to the next review, Reese Witherspoon turns to Bella Hadid's Erewhon collab, saying, "So you tried the Hailey Bieber, which looks really good. I'm kind of excited, I want to try it. Now this is the Bella Hadid." The Big Little Lies star quickly reveals she's a big fan, smiling and revealing, "OK, that's really good." She adds, "It's orange — it tastes like a creamsicle. Like a creamsicle ice cream sundae." Nodding together in approval, Reese and Abby closed out the video with a few final words: "Thumbs up," "Delicious."