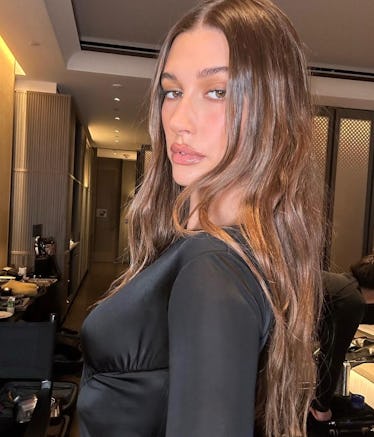 Hailey Bieber's Workout Routine Will Tone Your Lower Body
She definitely doesn't skip leg day.
It's no secret Hailey Bieber is busy serving up tons of inspo. Not only is she a terrific home chef, sharing recipes like chocolate protein pancakes from her Insta-worthy home, but Bieber is also a wellness queen with her own Rhode skin care line and relatable TikToks, showing off how to decompress at home with wine and your fave TV show. If you're looking to get back into fitness in the new year or switch things up, Hailey Bieber's workout routine is something you may want to try for yourself the next time you go to the gym.
Even if you're just working out at home, you can follow Bieber's lead for what exercises to do. Back in 2020, the model shared her "quarantine workout routine" to keep active at home, which included various exercises like Pilates and cardio. Bieber called Pilates her "favorite workout," adding, "I used to be a dancer, so I love Pilates because it really elongates and strengthens my muscles." For cardio, the model has opted for boxing, saying, "I found that remembering the combinations and learning how [to] move your body in boxing has been good for mental health."
While trying out a Pilates routine at home or memorizing a few boxing combos is a great way to work up a sweat, one of Bieber's trainers shared her weight-based workouts on Instagram — and they're so easy to replicate at home or at the gym. If you'd like to tone your lower body, add a few of these exercises into your workout schedule.
These six simple exercises may not seem like a lot, but they target many muscles in your body so you're really getting a full body routine. Overtime, you'll notice that they've helped to tone your legs and make you feel more energized. You can even treat yourself to a Strawberry Glaze Smoothie afterwards. Now that's a win-win.