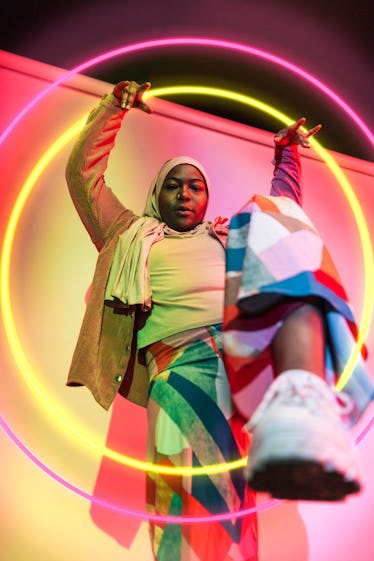 How April 2023's Rare Hybrid Solar Eclipse Will Affect Your Sign
New beginnings are unfolding at a lightning speed.
SolStock/E+/Getty Images
It's the most stressful time of the year: eclipse season. Your problematic fave retrograde may be coming soon, but April 2023's solar eclipse should be the cosmic event on every zodiac sign's radar, especially considering it's a rare hybrid solar eclipse; they only happen about once a *decade*, so yeah... it's a big deal.
But First, What Is A Solar Eclipse, Exactly?
A solar eclipse takes place when the sun and moon are in the same sign, near the North Node or South Node. During a solar eclipse, the moon passes between the sun and Earth, covering the sun's rays. This event tends to be a stressful time for the luminaries, since the sun's light is essentially being obstructed, resulting in all kinds of chaos.
This month, the first eclipse of the year is considered to be a hybrid eclipse, only occurring once every 10 years or so. Hybrid eclipses are essentially a "hybrid" of a total (totally obscured) eclipse and annular (ring-shaped) eclipse, causing the moon's shadow that's being cast over Earth to shift as it continues to spin.
When Does The April 2023 Hybrid Solar Eclipse Take Place?
On April 20 at 1:34 a.m. UTC (Universal Time Coordinated, since it won't be visible in the U.S.), the sun and moon will conjoin at 29 degrees of the cardinal fire sign Aries, initiating new independent action and determination into the birth charts of every zodiac sign. As the first eclipse along the Aries-Libra axis this year, it'll be worthwhile to check back in with this area of your chart once Libra season comes along, and the full moon in Aries brings some of these current themes to completion.
Here's how every zodiac sign will be affected by the April hybrid solar eclipse:
Aries (March 20 - April 20)
On April 20, the sun and moon will conjoin at the very tail end of your sign, launching you into new, exciting endeavors. This couldn't be a more perfect way to end your season, Aries, and with two new moons in your first house now under your belt, you're probably feeling brand new. This eclipse is a time for you to do what you do best: focus on your most recent passions and ambitions. It's OK to make the day solely about you. You're evolving at a rapid pace, and these evolutions require your undivided attention.
Taurus (April 20 - May 21)
This month, you'll be getting another opportunity to wipe the slate clean when it comes to your behind-the-scenes habits and rituals. You've been spending a lot of time alone over the last month, Taurus, but your season will begin just a few hours after this eclipse, thrusting you into the spotlight. Until then, though, you'll be encouraged to engage in independent pursuits in your private world, allowing you to focus solely on yourself, even if it means saying no to outside requests.
Gemini (May 21 - June 22)
On April 20, a powerful new initiation will unfold in your friendships and alliances, thrusting you into new group projects and collaborations. You're a natural leader in your community, and this solar eclipse is an invitation for you to take the reins. Others tend to follow your lead anyway. This could mark the start of a budding new idea that you're eager to share with your friends, but don't worry too much if the excitement fizzles. You'll have plenty of time to flesh out these concepts as the year goes on.
Cancer (June 22 - July 20)
As the solar eclipse unfolds, potent new beginnings will unfold in your 10th house of career, offering a surge in new professional projects and endeavors. As a career-oriented individual, you're always looking for new ways to assert your independence in your vocation, and this eclipse is a fortunate time for inspired action. Whether you're taking on more responsibilities here or pitching an idea for a solo project, you'll be ramped up and ready to take the world by storm.
Leo (July 20 - Aug. 21)
On April 20, the sun (aka your chart ruler) will conjoin the moon in your ninth house, catapulting you into new belief systems, studies, and philosophies. As a fellow fire sign, you're always eager to step into a new chapter, and this month is your moment to renew some of your current perspectives. You get to decide what gives you purpose, Leo, but, little hint, it has a lot to do with your innate gifts and talents. As long as your views allow you to honor who you are, you'll never feel unfulfilled.
Virgo (Aug. 21 - Sept. 22)
This month's solar eclipse is ushering in a new chapter when it comes to how you show up for others mentally, physically, and spiritually. You find deep fulfillment in being of service to others, and on April 20, you'll be eager to be supportive to your loved ones in new ways. Just be mindful of how much of yourself you're giving away, Virgo — you don't want to end up doing more harm than good in your relationships.
Libra (Sept. 22 - Oct. 21)
As the hybrid solar eclipse in Aries unfolds in your seventh house of relationships, you'll be feeling more social than ever, specifically when it comes to your love life. This is an opportunity to step into a new chapter in your partnerships, Libra, so feel free to leave ex-lovers entirely in the rearview. You're opening yourself to new connections now, and it promises to be rewarding.
Scorpio (Oct. 21 - Nov. 22 )
On April 20, the hybrid solar eclipse will mark the start of something new in your responsibilities, duties, and self-care. As a fellow Mars-ruled soul, you're always looking for your next conquest, and this month, you'll be directing your efforts to your rituals and daily obligations. Whether it's amping up your productivity or training for a marathon, you'll be putting this energy to good use.
Sagittarius (Nov. 22 - Dec. 21)
This month, the hybrid solar eclipse will bring rapid new developments to your fifth house of creative pursuits, hobbies, and passions. As a fire sign, you're no stranger to striking while the iron's hot, and this eclipse is the perfect time to take a risk in this area. Whether you're picking up a new leisure activity or going on a date with your crush, now is the time to let loose, Sagittarius. Knowing you, you'll have no difficulty doing so.
Capricorn (Dec. 21 - Jan. 19)
On April 10, the hybrid eclipse will unfold in your fourth house of home and family, bringing inspired and assertive new beginnings here. You'll be ready to embark on a new chapter regarding your family, relatives, or current residence, but as the cardinal earth sign of the zodiac, you may not be incredibly used to this hasty energy. However, now is the time to strike while the iron's hot, Capricorn — sometimes a quick response is needed. Trust your gut.
Aquarius (Jan. 19 - Feb. 20)
As the solar eclipse unfolds on April 20, you'll be prompted to hit the ground running with a new skill, idea, or hobby. You're always looking for new knowledge, but this eclipse will propel you into a study that leaves you feeling motivated and inspired. Whether you're enrolling in a new class, or launching a podcast, the next few months promise to teach you an abundance of new, exciting things.
Pisces (Feb. 20 - March 20)
On April 20, the hybrid solar eclipse will bring inspired action to your second house of money, resources, and assets. You could be making a sudden purchase or even getting a raise — either way, you'll be feeling motivated to enjoy and prioritize the fruits of your labor. Hasty activity doesn't have to be a bad thing, Pisces. Sometimes taking action without too much forethought is exactly what you need. Just make sure you're not burning a hole in your wallet if the funds shouldn't be spent.