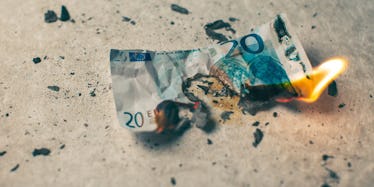 A Year In Review: Everything We've Learned From The 25 Major Pop Culture Moments Of 2013
Stocksy
2013 was certainly an interesting year -- from the twerk heard round the world to the Presidential Inauguration last January, we've definitely had our fair share of noteworthy moments.
What was the lasting impact of these events? What have we learned from the explosion of Candy Crush and the corruption of Miley Cyrus? That it doesn't matter if you're sweet or subtle, so long as you go after that jelly.
We did it! Another year down and another year wiser. Here's everything we learned from the major moments of 2013 -- between the zombie apocalypse and the death of trans fats in Twinkies, we're happy to make it out alive.
1. Who needs friends when you can have selfies?
From funeral selfies to plain old gratuitous selfies, 2013 was definitely the Year of the Selfie. Everyone and their puppies were snapping pictures of themselves and uploading it to their social media accounts.
This year, our most intimate relationship was with our phones because sometimes friends don't always capture you in your best light.
2. Nobody is perfect -- even Beyoncé
We have to admit it, we fell even crazier in love with Beyoncé after she admitted to lip-synching the national anthem.
Let's be real, Bey doesn't need to prove the Sasha Fierceness of her voice -- we know she "Runs The World (Girls)." But it was nice to see that even the Queen B herself has bad days, too.
3. Paying for sex isn't okay, but paying for dinner and then having sex is -- at least according to Tinder
With new apps like Tinder and sites like OkCupid, the dating field has drastically changed. It's no longer about traditional rules like "waiting until the third date to sleep with him" and more about rules for your profile picture like "stay away from baby pictures."
Even if your end goal is just to get laid, guess what -- there's an app for that!
4. There's a chance for World Peace if we keep uniting under our common hatred for Anne Hathaway
We always knew we disliked Anne Hathaway ever since she was named "Anne" and acted like a twat all the time (Seriously, why does she, of all people, get to be naked with Jake Gyllenhaal?), but her Oscar speech really solidified our hatred for her.
"It came true!" she said with even worse acting that is to be expected from the sub-par actress. That being said, she really makes us all love each other a little more and for that we are grateful.
5. Charles Ramsey should have been TIME's Person of the Year, or at least a spokesperson for McDonald's
A true hero, Charles Ramsey can't even take all the credit for his rescue of Amanda Berry, Gina DeJesus and Michelle Knight. No, he shared the responsibility with McDonald's during his interview-turned-victory-speech.
6. No matter how famous The Food Network makes you, you still can't say the N-word
Paula Deen's rapid demise taught us that you can try to sugarcoat it as much as you want, but racist comments will always leave a bitter taste in our mouths.
7. Snapchat was Silicon Valley's greatest gift to horny teenagers and cheating husbands everywhere
The reason the government keeps wire-tapping our phones is that we're all sending nudie pics over Snapchat. Fortunately, just the app -- and not our dick pics -- went viral.
8. Meth Dealers were the true winners of 2013
"Breaking Bad" and bath salts were all the rage in 2013 (not that we are advocating the latter!). While Walter White was cooking up the goods, America was smoking them... and then everyone died along with the trend.
9. Women are better than men -- case in point: Yahoo!
Marissa Mayer crushes it in the boardroom, on the cover of Vogue and in her everyday life. She's the CEO responsible for Yahoo!'s amazing turn-around and proves that all it takes is a woman to get it done.
10. Two heads working together are better than one -- Government Shutdown, I'm talking to you!
The government shutdown taught us that extreme bipartisanship will prevent us from executing our goals and progressing on reforms. We need to be open to listening to all sides and taking elements of each or else it'll all come to a halt.
11. Real women are really beautiful
Dove's commercial, "Real Beauty Sketches," became the most viral ad video with over 114 million total views. It was an important reminder that when we look at ourselves, we should see nothing but pure beauty.
12. Crazy people still have the ability to surprise us (especially if you're Amanda Bynes)
We knew Amanda Bynes was a little off when she started tweeting about Drake murdering her vagina and calling everyone ugly, but we didn't realize that it was actually symptomatic of her full-fledged mental disorder.
Looks like Cher, RiRi, Jenny McCarthy and pretty much everyone else Amanda has insulted is getting the last laugh.
13. Unless you're a porn star, it's not cool to be famous for your dick
Anthony Weiner, we are most definitely calling you out on this one. Way to live up to your name, though. Or Carlos Danger's for that matter.
14. If you're going to smoke crack, don't date a Kardashian -- become the Mayor of Toronto
The rules of smoking crack are actually fairly simple and, thankfully, we have a lot of celebrities to turn to as examples (Whitney...*to be said in a chastising voice*).
If your wife has cameras on her 24/7, you might want to rethink that so-called "cigarette break" -- aka running out to a shaded area and taking a quick hit o' dat pipe! Mayors, like Rob Ford, on the other hand, get a free pass. Oh, Canada!
15. Be brave enough to change the game
Jason Collins made history by becoming the first openly gay athlete in any of the four major American sports. His decision to come out and the support from his fans were certainly a slam-dunk for the NBA!
16. If at first you don't succeed, try again. And by this I mean Obama's second Presidential Inauguration
Maybe now is not a good time to get political, as we're all on a bonded high from group-hating on twat-faced-Anne back up at number four. But hopefully Obama's term two will see more action than Michelle's haircut during term one.
17. Two is always better than one, especially when it comes to cronuts, ramen burgers and sushi tacos
Hybrid foods were totally a trend in 2013 and for good reason -- when it comes to food, the more the better!
18. Try to be less obvious when you murder someone
Aaron Hernandez probably shouldn't have taken a selfie with a gun and then stashed the body around the corner. Those things generally make you look guilty. But then again, who are we to call ourselves professionals in the killing game?
19. Never underestimate your own power and self-worth
Malala Yousafzai has come an incredibly long way since her brush with death last year. She's written a book, "I Am Malala," was nominated for a Nobel Peace Prize and is the spokeswoman for young girls in developing nations seeking an education. Her work has inspired all of us to pursue our passions and to recognize our intrinsic value.
20. There's no better way to update a classic than by injecting it with a little Jay Z and Leo
"The Great Gatsby" got a total upgrade when Baz Luhrmann infused it with contemporary touches like a hip hop soundtrack and jazzed up costumes. And, you can never go wrong when you've got Leo lusting after you.
21. Regardless if you hate them or love them, there's no denying that our lives will be forever changed because of Kim and Kanye
North West, "Keeping Up With The Kardashians," boycotting Louis Vuitton, pregnancy scrutiny, Yeezus, blonde hair don't care, twitter ranting, paparazzi fights -- none of these incredibly influential moments would exist without the duo.
They are the definition of a superstar couple. You might be sick of them by now, but the reality is they are "Bound 2" stay around for a while.
22. We're always looking for the lazy way out
The New York Times published a note-worthy article declaring that we can get by with just seven minutes of optimal exercise. Just to clarify -- in our world, if you can get by with just seven minutes of exercise, that's called "being naturally thin."
23. Kate Middleton is the ultimate lady boss
It's been quite a year for the duchess -- a belly, a baby and a British hubby with blue blood. And yet with all that she has going on, there is still nothing bad to say about her. So keep trying, haters!
24. Edward Snowden is the new Carmen Sandiego
Where in the world is Edward Snowden, the famous whistleblower whose saga could easily be turned into a movie? He first fled the US to Hong Kong and eventually made his way to Russia, where he has been granted temporary asylum.
He'll likely be all over the map -- the fugitive also applied for asylum in Ecuador, while the US has asked Russia to extradite him.
25. When all else fails, you gotta twerk it out
Sometimes it just feels good to cut loose and get silly. So shake that ass and let us see what you've got.
And That's A Wrap!
Top photo