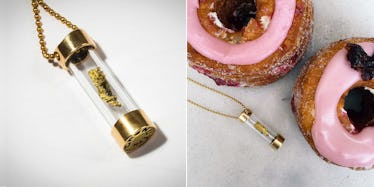 This Cronut Necklace Is The Most Basic Valentine's Day Gift Ever (Photos)
Finding the perfect Valentine's Day gift for your boo can be a pretty tricky task.
You want an awesome gift that shows how much you truly care, but going with the traditional presents of red roses, chocolate and a teddy bear can at times seem pretty cliche.
When it comes to seeking out the perfect Valentine's Day present, you have to think outside the heart-shaped box and choose something unique.
Something like... a Cronut.
Yes, this Valentine's Day you can give your boo a piece of the ultimate frankenfood to wear proudly around her neck, since the infamous Dominique Ansel has teamed up a jewelry designer to create a drool-worthy piece of bling for this special day: a Cronut necklace.
Don't worry, it's not a doughnut hanging on a delicate gold chain.
This delicious necklace is essentially a gold-covered flake of the almighty Cronut tucked inside a glass vial for all the world to see.
However, if you want a gift that really shows your girlfriend you love her just as much as you love a mouthwatering pastry, you better act fast.
There are only 100 of these bad boys up for grabs on the Virgin Mega App, and for $100, you get the necklace along with two delectable cronuts.
While you can't put a price on love, I guess you can put a price on a stale donut stuffed inside a vial. Oh, the things we do for love.
Take a look at the photos below to see the ultimate Valentine's Day gift.
Behold, the Cronut necklace in all of its delicious glory.
For $100, you can get one of these bad boys for your boo along with two tasty Cronuts.
There's no telling what this creative pastry wiz will think of next.
Citations: Your Best Valentineu2019s Day Present: A Bronze-Cast Cronut Necklace (the Braiser)