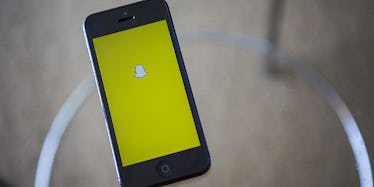 Is Snapchat Stupid For Rejecting $3B Offer From Facebook, Or Are They On To Something?
REUTERS
Unless you've just crawled up from under Patrick's rock, chances are you've heard the big news in the tech world this week. According to the Wall Street Journal, photo-messaging app Snapchat recently rejected a $3 billion cash offer for acquisition from Facebook.
It's a report that, for the uninformed, begs two obvious questions:
How the heck is Snapchat, an app that generates no revenue, worth billions of dollars? And why would they turn down such a huge offer?
The answer to the first is pretty straight-forward, with no analysis of finances or crunching of the numbers necessary because Snapchat, basically, makes no money.
The app has essentially reached a valuation in the billions by virtue of its sheer popularity and the space in which that popularity is enjoyed.
Everyday, Snapchat is said to have over 350 million messages exchanged over its network between 100 million users. Combine that with the fact that their success is enjoyed on mobile devices and you've got the perfect formula to attract the big boys of the tech industry. Furthermore, there may be no other giant in Silicon Valley that is thirstier for mobile prosperity than Facebook.
After enduring a tough, first full year on the stock market, Mark Zuckerberg and co. experienced a rebound propelled by its performances on smartphones and tablets. The company's mobile ad revenue increased by 76%, to $656 million, between July of last year and this past summer.
That improvement prompted a surge in the social network's stock price, which continued into the fall, with a high of $54.22 per share reached in the middle of October. To compare, the stock was at a low of $23 per share in June, right before the upturn in fortunes.
When it comes to its $3 billion bid, no one knows for sure how Facebook would have monetized Snapchat but, with Instagram in its right hand and the Los Angeles-based startup in its left, the world's largest social network would have only been poised to increase its presence in a space that has become a big money maker. That presence would then be extended towards the teens that Facebook has yet to receive brand loyalty from and among whom Snapchat is very popular.
All of that, the reasons Facebook has to try and make a large offer, is what makes Snapchat worth multiple billions of dollars. As Matt Buchanan of the New Yorker wrote this week, "attention is the real currency of social-media companies, and it can be mercilessly capricious, particularly among the most coveted demographic of all, youth."
So why, exactly, did the former Stanford students behind the app reject such a substantial offer? New York Times tech reporter Jenna Wortham probably put it best.
"It's not that they don't want billions of dollars. In part, it's because they think making a deal now would leave many billions more on the table."
If attention really is the "real currency" in social media, then 23-year-old CEO Evan Spiegel and 25-year-old COO Bobby Murphy are making it at a faster rate than other successful companies were at similar points in their histories. Their progress in attracting users, traffic and investment surpasses the likes of YouTube and Pinterest at comparable stages in their development.
Furthermore, as the Guardian points out, investors love Snapchat as well. Dennis Phelps of Institutional Venture Partners, which led an $80 million investment round at a valuation of $800 during the summer, waxed lyrical and rolled out this list of ten reasons why Snapchat was a good investment.
Perhaps more important, though, were the remarks from another investor, Benchmark Capital. Benchmark was an early investor in Instagram and is said to have been upset that the photo-editing app sold out to Facebook for what they thought was less money than it was worth.
They are keen to avoid the same happening to Snapchat, which they think can establish its own place among the world's tech giants.
"At Benchmark we search for entrepreneurs who want to change the world, and Evan and Bobby certainly have that ambition," general partner Mitch Lasky wrote  in February. "We believe that Snapchat can become one of the most important mobile companies in the world."
With investors who don't seem the least bit interested in seeing Snapchat tucked under the wing of any other big company and the attention of perhaps the tech world's most vital demographic, Spiegel and Murphy have every reason to believe that bigger and better things are on the horizon, with or without Facebook.