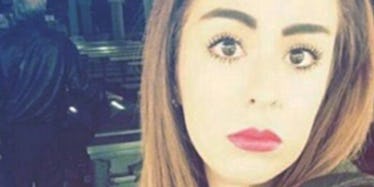 Woman Takes Funeral Selfies To New Low By Snapping A Pic With Coffin Emoji
Snapchat
Today's inappropriate selfie award goes to Francesca Fierros Palomino.
Francesca officially destroyed the one last shred of respect the selfie generation has by posting a picture of herself at her grandfather's funeral.
The fashion-mad social media lover from Jalisco, Mexico posed at the church with her grandfather's coffin in the background.
The caption read,
Rest in Peace, granddad.
Underneath the photograph was a coffin and an old man emoji.
She later snapped another pic of herself posing in all black in front of a mirror.
Obviously, she rose to fame quickly, but for all the wrong reasons. She's now known as "LadyFuneral."
RIP respect. You will be missed.
Her inappropriate selfie ranks right up there with Breanna Mitchell's. Remember her?
She's the one who caused a Twitter shit-storm by posting a photo of herself smiling at Auschwitz concentration camp.
Breanna, of Alabama, explained it was a special place for her and her father, who passed away in the months before.
At the time, she said,
WWII is the only thing that's ever interested me in history, and it's his favorite part of history [...] Whenever I graduated they said they would take me out of the States to go wherever I wanted, and then he died one year prior to that photo [...] I don't know how it even escalated because that picture was there a month before [...] and then I literally woke up one morning and I had a thousand things on my phone, like notifications. I've had death threats, I've had people telling me I need to kill myself [...] I didn't mean any harm, and I've told everyone my story behind it.
Breanna said she didn't regret posting the photo and wouldn't change anything.
Sadly for Breanna, it only took one poor judgement call to wake the beast that is the internet.