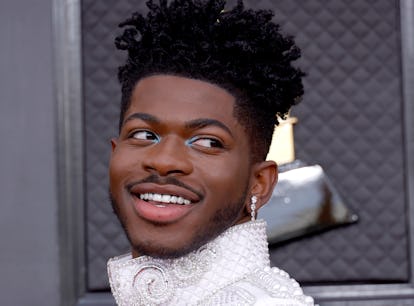 Lil Nas X's Style Evolution Is Full Of Self-Actualization And Sequins
His journey is the *literal* definition of a glow-up.
Frazer Harrison/Getty Images Entertainment/Getty Images
Lil Nas X is just out here getting cuter. In 2019, he was two-stepping, shirt tucked into jeans, next to Billy Ray Cyrus in the video for his hit single "Old Town Road." Two years later, he donned thigh-high stiletto boots and pole danced into hell to twerk for and then dethrone Satan in the music video for "MONTERO (Call Me By Your Name)," another hit single. Side-by-side, these two videos show how drastic Lil Nas X's style evolution has been.
At the beginning of his career, Lil Nas X had not yet come out as a gay man and took a more conservative approach to fashion. His first public looks seem tame, but still totally turned heteronormative "masculine" red carpet classics on their heads. (Not once has he ever stepped out in something as simple as a basic black suit.) Now, he's wearing internet-breaking gowns, popping off in skirts, and wearing so many Swarovski crystals you know that he's getting a workout just from keeping his back straight.
Lil Nas X has brought a new level of queer excellence to every red carpet he steps to and he's reached new fashion heights with impeccable 'fits that play with gender and genre. The rapper's style evolution is truly a thing of beauty and I'm here to walk through every breakthrough, triumph, and iconic moment. At the end of the day, Lil Nas X's fashion sense is so unabashedly him, so bold, and so fearless that I want to jump to a standing ovation every time he steps onto a red carpet.
This article was originally published on