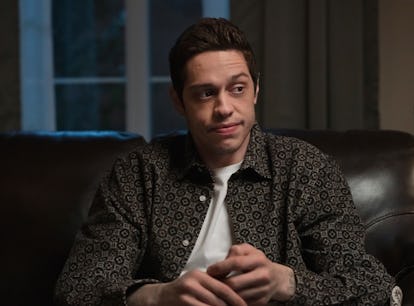 Pete Davidson Felt "Super Insecure" With How Much SNL Made Fun Of Him
"You're like, 'I'm a f*cking loser, man.'"
Peacock/NBCUniversal/Getty Images
A year after Pete Davidson left Saturday Night Live, he got real about a part of the job that really got on his nerves. Davidson was catapulted into the world of A-list celebrity during his tenure on the sketch comedy series, not because of his work but because of his endlessly buzzy personal life. While he understood that the pop culture-based show he was on would have to make a few jokes about his love life, Davidson admitted that he began to feel "insecure" and like a "loser" whenever SNL joked about him.
Davidson revealed his complicated feelings about SNL and fame on the March 30 episode of Jon Bernthal's podcast Real Ones. "When your own show [pokes fun at you] ... I'd be sitting in the back watching the cold open and — the cold open [is] topical, political humor, whatever's in the culture. And then, making fun of you. Then you've got to walk out and do a sketch next and hit your mark and the show just made fun of you," Davidson said. "So, why are they going to laugh at you? Like, they just dogged you in front of everyone. And you're like, 'I'm a f*cking loser, man.'"
Since Davidson's dating life was often the main conversation of the week during his stint on SNL, the show often included little nods to his relationships within sketches. In an early 2022 cold open, Davidson himself appeared as an alternate-timeline Joe Biden and delivered a winking line about how Pete Davidson was the only man having fun in our world. The sketch aired a couple months after Davidson had begun dating Kim Kardashian.
Though Davidson expressed his love for his SNL castmates and showrunner Lorne Michaels, he said he had a difficult time appearing on a show that constantly made fun of him. "It was f*cking confusing 'cause the nature of entertainment is the nature of this business," Davidson said. "At the end of the day, that's what it is. This was a really difficult thing to do. You feel small. You feel super insecure."
He went on to pick apart why he had become such a huge name in the first place, asserting that his love life really shouldn't have been that interesting to the public. "I'm in my 20s and I've dated people, and for some reason that's very crazy and interesting to people. I don't think it's interesting," Davidson said. "In 12 years I've dated 10 people. I don't think that's that crazy, but to some people, that's very interesting. That became all anyone would talk about."
Davidson's love life first became a magnet for public intrigue when he began dating Ariana Grande in 2018. After they broke up, he had flings with various famous women, including Kate Beckinsale, Margaret Qualley, Kaia Gerber, and Phoebe Dynevor. In 2021, Davidson entered into his most high-profile relationship yet when he dated Kim Kardashian. Since their breakup in August 2022, Davidson briefly dated Emily Ratajkowski, and is currently seeing his Bodies Bodies Bodies co-star Chase Sui Wonders.
Although all these women are celebrities, Davidson clarified that it's only natural he would date fellow stars since they just run in the same circles. "These people that I've dated, I met them at work," he said. "I wasn't in anyone's DMs [and] no one was in mine. I worked at one of the five Hollywood epicenters of where you meet people. And that's how it happened."
Famously, Davidson first met and kissed Kardashian while spoofing Aladdin in a sketch together when Kardashian hosted SNL in October 2021.
Now, SNL is in the rearview for Davidson. His next project is his semi-autobiographical new comedy series, Bupkis, which premieres May 4 on Peacock.