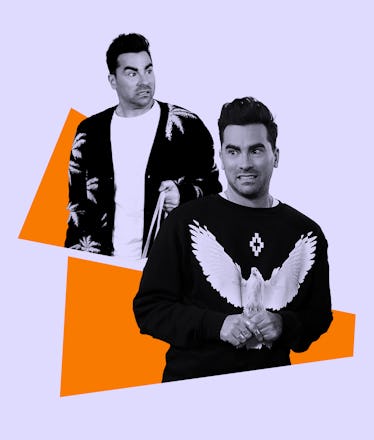 Dressing Like David From Schitt's Creek Made Me Want To Burn My Wardrobe
It low-key made me say "ew, David."
CBC/ITV/Kobal/Shutterstock
In Elite Daily's I Tried series, we put celebrities' favorite products, recipes, and routines to the test to show you what living like your fave star is really like. In this piece, we dress like David Rose from Schitt's Creek.
Schitt's Creek is one of those shows you can't help but love more and more with every rewatch. The series — which follows Johnny (Eugene Levy), Moira (Catherine O'Hara), David (Dan Levy), and Alexis (Annie Murphy) — taught viewers everything from how to find yourself when you hit rock bottom to the sheer fact that selling unpasteurized milk is illegal. Some people connect to the friendships (shouts to David and Stevie), some to the self-realizations (hi, Alexis), and some to the love stories (looking at you, Patrick and David). But for me? My most recent rewatch has drawn me to one thing and one thing only: the fashion. In particular, how David Rose dresses in the series.
Everyone on the show has their thing. Moira never leaves her house without a wig and Alexis is down to do community service in heels. For David, it's his signature look: dark colors, lots of layers, and a facial expression that says, "please don't talk to me unprovoked," — the latter of which I can completely relate to.
As more Americans receive their coronavirus vaccinations and leaving the house becomes safer, I figured now was the perfect time to switch up my own personal aesthetic. While I usually spend my time in pajama bottoms and free T-shirts from college as opposed to designer labels like the sassiest Rose, I figured infusing some of David's style into my lewk could be a fun way to change things up. After pulling out just about everything in my closet, I put together a few looks David would (maybe) be proud of.