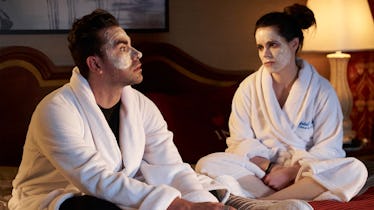 These David & Stevie Bestie Moments On 'Schitt's Creek' Are Relatable AF
Netflix
From tears of laughter to hilarious disagreements, David Rose and Stevie Budd are the ultimate besties. Just like the Schitt's Creek duo, you and your BFF likely spend countless hours LOLing with each other, being sarcastic, and making lasting memories. After sharing funny GIFs from the show, consider sending your bestie one of these David and Stevie moments from Schitt's Creek that are relatable AF.
Even after rewatching the series for the hundredth time, you and your BFF can't stop cry-laughing over Stevie giving David another reality check. Sometimes, you can't even believe how you and your soulmate have moments just like the TV pair, like when David needs Stevie to kill the bug in his room. To make your friend laugh in delight, send them an epic David and Stevie moment from Schitt's Creek that you two have accidentally recreated.
You may even find a David and Stevie moment you haven't acted out yet, and use these clips as inspo in your next FaceTime with your BFF. Record yourself and your bestie lip-syncing to a David and Stevie scene for a comical TikTok to give your followers something to laugh about. Because your bestie is the Rose to your Budd, you know they'll get a kick out these David and Stevie moments from Schitt's Creek.