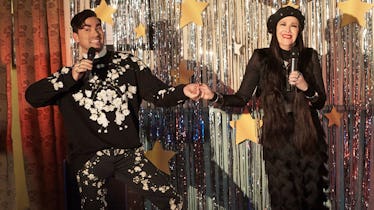 8 'Schitt's Creek' TikToks To Recreate With Your Housemates For A Little Bit Of Fun
Netflix
If you and your housemates are looking for something fun and hilarious to do, consider channeling your favorite TV family, aka the Rose family. Find some inspiration first by marathon watching Schitt's Creek and start a chat collecting everyone's favorite GIFs from the show. Then, make your favorite characters come to life by recreating these Schitt's Creek TikToks with your housemates for a little bit of fun.
You and your roommates are sure to be LOLing over the hilarious antics of David and Alexis. You will most likely not be ready to say goodbye to the show quite yet, and neither can TikTok. Grab a martini glass and put on a posh accessory to channel your inner Moira. Or, gather up your housemates to stage a round of #SchittsCreekImpressions and let your followers vote on who did it best. If you can decide on a favorite scene from the show, you can also recreate it. Have your housemates dress as their fave character and act out the lines to make a Schitt's Creek TikTok of your own.
Not only will you and your crew make some hilarious moments together by roleplaying these Schitt's Creek scenarios, but your followers will also have some laughs when they see your creative videos. Get out your best diva face, because the camera's on you this time. Whether you're rocking a little bit Alexis-like dance or an expression that says, "Ew," you'll have a blast making these Schitt's Creek TikToks.