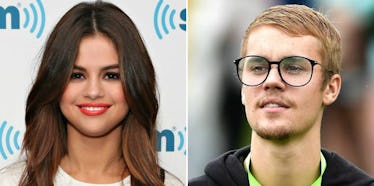 6 Celebrity Exes Who Could Reunite At The Teen Choice Awards
Cindy Ord/Getty Images Stuart Franklin/Getty Images
Some people watch the Teen Choice Awards for the live entertainment. Others watch to see red carpet looks. I watch to see awkward ex-encounters. If you're going to run into an ex, the Teen Choice Awards is the best place to do it. Each celeb arrives looking flawless, dripping in jewels, and feeling like an overall bad*ss. For example, Justin Bieber and Selena Gomez will be an interesting rendezvous. Not only are they very famous exes, Gomez will probably arrive with boyfriend, The Weeknd (real name Abel Tesfaye). Adding more awkwardness, The Weeknd and Bieber are going head-to-head for "Choice Male Artist." Gomez is also nominated in three categories. Eat your heart out, Bieber.
While that will be juicy, Gomez and Bieber aren't the only set of exes to watch out for. Below are six celebrity exes who will more than likely have to engage in awkward pleasantries and fake good-to-see-you side hugs. Oh, that makes my palms sweat.
1. Michelle Rodriguez and Zac Efron
Remember when Michelle Rodriguez and Zac Efron were seen making out on a boat in Ibiza in 2014? Weird, wild times. The pair split in August 2014 after only two months. It doesn't seem like there are any hard feelings, and Rodriguez didn't seem jostled by the split... at all. She told Entertainment Tonight during an interview shortly after the split,
I have absolutely nothing consistent in my life ... I'm a lone wolf. I run by myself on most things. I've got lots of really great friends, but the thought of being in a long-lasting relationship? Psh, I couldn't last more than six months with somebody, let alone have a father figure around for a kid.
Alrighty, then. Hopefully Efron also had this laid-back attitude. Rodriguez is nominated for "Choice Action Movie Actress" for her role in The Fate of the Furious. Efron is nominated for "Choice Comedy Movie Actor" for Baywatch. This means they'll both more than likely be in attendance. Ibiza reunion, anyone?
2. Zayn Malik and Perrie Edwards
I'm predicting that Zayn Malik and Perrie Edwards are going to try and avoid each other. Little Mix is nominated for "Choice Music Group," so she'll definitely be lurking around. Malik is also expected to show because he is nominated for his collab with Taylor Swift in "I Don't Wanna Live Forever."
Malik and Edwards have been feuding since their breakup in 2016. Edwards was p*ssed and wanted everyone to know about it. Even Malik's current GF, Gigi Hadid, had to step in. After the song "Shout Out To My Ex" was released, Hadid had to remind everyone who is boss.
According to a source from Perez Hilton, the line "Heard he in love with some other chick" was originally "Heard he been f*cking some model chick." Ouch. The source also said,
Gigi wishes Perrie would just move on and leave her and Zayn alone. She thinks the song and the lyrics are immature.
I have a feeling Malik and Edwards will be sitting very, very far apart.
3. Becky G and Austin Mahone
Becky G and Austin Mahone had a fling in 2016. Like most teenagers, once they broke up, they took their frustration out on Twitter. The series of tweets went something like this:
Becky G: "Honestly I can't be mad... I might have to tip my hat" Austin: "Don't be sad that it's over, be happy that it happened" Becky G: "Throwing shade like it's sunny"
LOL I freaking live for this kind of thing. Will these two run into each other at the Awards? Honestly, probably. Becky G is nominated for her role in Power Rangers. Even though Mahone isn't nominated this year, he has walked the red carpet for the past three years — don't think he'll miss.
4. Camila Cabello and Louis Tomlinson
Before Louis Tomlinson was the cutest dad alive, he reportedly dated Camila Cabello. Rumors first started about these two back in 2015 when they were seen out all over Los Angeles together. Since then, Cabello has left Fifth Harmony to pursue a solo career and Tomlinson welcomed son, Freddie Reign, in January 2016. A lot has happened in the past two years, so I'm sure it's all water under the bridge.
Cabello is nominated as "Choice Song: Female Artist" for "Crying in the Club," and Tomlinson is nominated for his collab with Steve Aoki in "Just Hold On."
5. Tom Hiddleston and Taylor Swift
RIP Hiddleswift, we barely knew you. Taylor Swift has barely emerged in the past year, so I really hope she hits the red carpet at the Teen Choice Awards. It's almost not fair if she doesn't. While it's not likely she'll be attending with current rumored boyfriend, Joe Alwyn — they keep their relationship more private than I keep my browsing history — I bet she's hoping to avoid Tom Hiddleston. Their relationship fizzled out faster than you can say "Was this relationship for publicity?"
6. Taylor Lautner and Billie Lourd
This is a couple I hope reunites on the red carpet. Lautner is nominated for his role in Run The Tide, so he will probably be in attendance. Even though Lourd is not nominated, this red carpet seems right up her alley. I would not be surprised if she made an appearance to promote her latest role in American Horror Story. Maybe these two will fall back in love... please?
Let this be a lesson to you: Next time you want to run into your ex, make sure you're dressed for the red carpet. Don't miss the Teen Choice Awards at 8 p.m. ET on Sunday, August 13 on FOX.