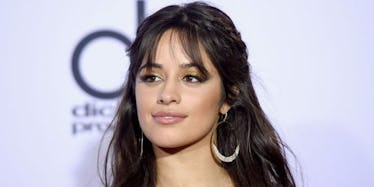 Camila Cabello Just Unfollowed All Of Fifth Harmony, So Don't Expect A Reunion
David Becker/Getty Images
Ohhhh snap. For all of you praying to the pop star gods Fifth Harmony gets back together, things are not looking good for you, my friends.
Camila Cabello, ex-member of girl group Fifth Harmony, just unfollowed literally every remaining member of the group on Instagram on July 17, AND she unfollowed the official Fifth Harmony page. She ain't messing around this time.
Cabello broke the hearts of Fifth Harmony fans all over the world last year when she decided to call it quits to pursue her own music career. She didn't wanna go work, work, work for Fifth Harmony anymore. The dramatic split sent fans into a tailspin due to the band's conflicting statements and angry social media posts. They were definitely not feeling harmonious.
The remaining members — Lauren Jauregui, Normani Kordei, Ally Brooke, and Dinah Jane decided to go on without Cabello but what's Fifth Harmony without five people? Fourth Harmony? Is this joke old? Whatever. It's just not right.
Regardless of the missing member, Fifth Harmony released their first Cabello-less song in June, titled "Down" and it was received by critics surprisingly well.
As the old saying goes, the show must go on – and it most certainly did.  Cabello also released her own solo single titled "Crying in the Club" in May, featuring Benny Biasco. These women are definitely not quitters, that's for sure.
When asked whether or not Cabello had any regrets for leaving the powerhouse group, Cabello told AMP radio, "Obviously I wish it wouldn't have been like that because I just, you know, peace... But like I said, I wish them the best." Yikes. Things seem pretty intense over there.
Although unfollowing friends on Instagram is pretty much a permanent friendship ender, we hope the best for Cabello and Fifth Harmony.
Cabello hopefully knows what she's doing or she might end up being the one crying in the club – and nobody wants to see that. Our vote? Just get back together.