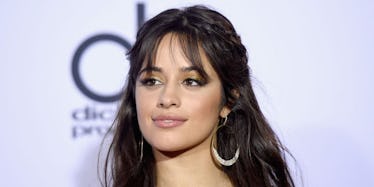 Camila Cabello Opens Up About Leaving Fifth Harmony: "I'm Super Happy"
David Becker/Getty Images
Camila Cabello broke Fifth Harmony fans' hearts last year when she decided to leave the girl group and pursue her own music career.
It was a dramatic split, involving contradictory statements and angry social media posts, and no one really knew what to think.
Could there even be a Fifth Harmony with only four members?
Apparently, yes.
The remaining members -- Lauren Jauregui, Normani Kordei, Ally Brooke, and Dinah Jane -- are proving Fifth Harmony will go on without Cabello.
In fact, they just released their first Cabello-free song, titled "Down," at the beginning of this month.
Cabello is also making new music and even collaborated with Ed Sheeran on an upcoming single.
So now that the dust has settled a bit on her breakup with the band, fans are all wondering if Cabello has any regrets.
In a recent interview with AMP Radio, the 20-year-old said,
Obviously I wish it wouldn't have been like that because I just, you know, peace... but like I said, I wish them the best.
It definitely doesn't sound like Cabello and the rest of the group are on speaking terms, despite her desire for peace. That doesn't mean she is going to rag on their new song, though.
When asked what she thinks of "Down," Cabello replied,
I've heard some snippets of it. I haven't had a chance to hear the whole thing, but I thought it was pretty cool.
Not to be harsh, but the song, which features Gucci Mane, is three minutes and 14 seconds. I find it suspect that a singer, who inevitably rides in cars to interviews and award shows and hops on planes and maybe even goes to the gym to workout while listening to music, hasn't had three minutes and 14 seconds to listen to the song in its entirety in the past two weeks...
Anyway, Cabello went on to call the song "a natural evolution," saying it's not weird for her that her vocals are missing from the track.
She also said,
I wish the best for them and I'm sure they're going to kill it, and I'm super happy making my own music.
Cabello's first solo album, The Hurting The Healing The Loving, will be released later this year. In the meantime, you can listen to the first two singles from the album, "Crying in the Club" and "I Have Questions."