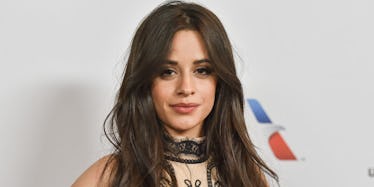 Camila Cabello Quit Fifth Harmony, And Everyone's Making The Same Joke
REX/Shutterstock
When I heard that Camila Cabello had quit Fifth Harmony, I had two thoughts.
The first:
Huh, I guess it makes sense that those girls all have names. I've just never wondered what they were before.
And then I thought,
FIFTH Harmony? More like FOURTH Harmony, AM I RIGHT? AM I RIGHT, PEOPLE?!
Obviously, I was right.
The once-five member girl group, Fifth Harmony, announced on December 18 that its 19-year-old member Camila Cabello had left for good.
Ally Brooke, Normani Kordei, Dinah Jane and Lauren Jauregui (again, names) signed the announcement and vowed to continue the group as a foursome.
The note on Instagram read,
After 4 and a half years of being together, we have been informed via her representatives that Camila has decided to leave Fifth Harmony. We wish her well. You Harmonizers have been there with us since the beginning, you've supported us, you've rejoiced and cried with us, you've grown with us, and with your love and support, we will continue on. That being said, we are excited to announce that we will be moving forward with the four of us — Ally Brooke, Normani Kordei, Dinah Jane and Lauren Jauregui for our fans. We are four strong, committed women who will continue with Fifth Harmony as well as our solo endeavors.
Fifth Harmony first formed on the second season of "The X Factor USA."
The girl group saw great success from their first studio album, Reflection, which included platinum hits like "Worth It."
Their second studio album, 7/27, included the lead single "Work From Home," which featured rapper Ty Dolla $ign.
Fans are understandably upset at the news of Cabello's abrupt departure — but no one's about to pass up the opportunity for a good subtraction joke.
Look, I'm not saying it's particularly clever, but someone's gotta say it.
OK, apparently everyone has to say it.
In fact, so many people are saying it that "Fourth Harmony" is trending on Twitter.
It's unclear whether the group's name will actually be changing to Fourth Harmony.
People are pretty confused.
But at least some are finding a bright side of Camila's departure.
I guess we'll have to wait and see what happens with that next album.
Meanwhile, Camila Cabello dropped the music video for her solo single "Bad Things" featuring Machine Gun Kelly a few weeks ago.
Maybe she can do a duet with Zayn Malik next.
Citations: Camila Cabello Quits Fifth Harmony, Group Vows to Continue On: 'We Are in This Together' (People)