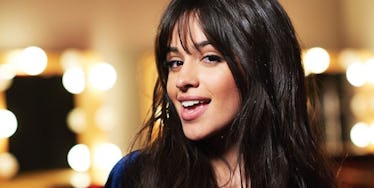 Camila Cabello Will Drop Full Performance Of 'I Have Questions' After BBMA
Benjamin Askinas
Listen up, Camilizers.
On Sunday, May 21, Camila Cabello will hit the stage at the 2017 Billboard Music Awards to perform her new song "Crying In The Club" live for the first time.
The single dropped on Thursday, May 18, and fans already can't get enough of it. I've personally listened to it on repeat non-stop since its release, so yeah, you could say I'm obsessed.
If you love the song as much as I do, there's something you should know about the new music video.
The first minute and 40 seconds of the clip is actually a preview of Camila's second single, "I Have Questions." That's right, she merely teases it, so fans have not yet had the chance to listen to the full thing.
...Until now. DUN DUN DUN.
On Sunday afternoon, Camila dropped her full track for "I Have Questions" on Spotify and it's so, so emotional.
If you love how it came out, then guess what? There's more.
Thanks to Xfinity, fans can watch Camila Cabello give an encore performance immediately after the BBMAs where she'll perform her new single "I Have Questions" in its entirety for the first time, exclusively for Xfinity TV customers.
Elite Daily was able to watch the rehearsal for the performance at the T-Mobile Arena and let me tell you — it's incredible. I was honestly tearing up in the audience because the performance was so damn good.
If you're dying to see Camila Cabello deliver one of her most emotional and captivating performances of all time, then you seriously need to see it. Just read these lyrics, you guys. They'll make you cry so hard:
Why did you leave me here to burn? I'm way too young to be this hurt I feel doomed in hotel rooms Staring straight up at the wall Counting wounds and I am trying to numb them all Do you care, do you care? Why don't you care? I gave you all of me My blood, my sweat, my heart, and my tears Why don't you care, why don't you care? I was there, I was there, when no one was Now you're gone and I'm here
Not only will she look stunning in the Xfinity performance, she will actually sing a portion of the song in reverse. That's right, the directors really went all out.
Check out some sneak peek photos below.
Like I said, it'll be the first official time Camila sings the full version of "I Have Questions." So, here's what you need to know: The encore performance will be available on Xfinity On Demand immediately following the Billboard Music Awards.
Leading up to the live broadcast, Xfinity TV customers will also be able to watch a series of "Behind The Performance" segments of Camila Cabello discussing the inspiration behind her song "I Have Questions" along with her experience preparing for the encore performance, all with Xfinity On Demand.
LOOK AT HOW CUTE SHE IS. I'm being serious, you won't want to miss this. Trust me, Camila and I go way back. (See below — we're besties.)
So, if you're planning on watching the Billboard Music Awards AND you're a big fan of Camila Cabello, then hit up Xfinity to watch some special behind-the-scenes action.
The content will also be available xfinity.com/BBMAs. GOT IT? Good.
Camila is also nominated for Top Rap Collaboration with Machine Gun Kelly for "Bad Things," so we'll be cheering her on all night.
The 2017 Billboard Music Awards will broadcast live on both coasts from the T-Mobile Arena in Las Vegas on Sunday, May 21, at 8:00 p.m. ET/5:00 p.m. PT on ABC.
Good luck, Camila! And be sure to follow Elite Daily on Snapchat (EliteDailySnap), Twitter and Facebook for live coverage all night long.