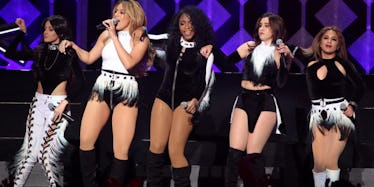 Camila Cabello Calls Out Fifth Harmony's New Statement: 'I Was Shocked'
REUTERS
If there's any sure sign that 2016 is pretty much the end of the word, it's the fact Camila Cabello quit Fifth Harmony, thus creating what many have called "Fourth Harmony," or "Four-Fifths Harmony," or "80 Percent Harmony."
We reported earlier how the four remaining members of the group issued a statement claiming they had found out Camila was leaving from her representatives.
While you probably think this is the coldest move of all time, Camila would have you know this is a lie, according to the following statement:
Way to pick an easy to read font, Camila. This is basically all of us trying to read what she wrote:
If you're struggling to decipher this small text, Camila basically argues she had in fact told the others of her plans to leave the group herself, saying,
I was shocked to read the statement the Fifth Harmony account posted without my knowing. The girls were aware of my feelings through the long, much needed conversations about the future that we had [during] the tour. Saying that they were just informed through my representatives that I was 'leaving the group' is just not true.
Forget the assassination of the Russian ambassador in Turkey, it's this back-and-forth between Camila and the rest of Fifth Harmony that may cause World War III.
Although Camila says she "did not intend to end things with Fifth Harmony this way," she went on to say she wishes "nothing but the best for them."
*cough, yeah right, cough*
Let's call it like it is: This is the kind of breakup where if you see the other party in public, you point at a random object and loudly say, "hey, look at that," before walking away as fast as humanly possible.
Needless to say, I wish all five current and former members of Fifth Harmony all the success in the world.
Citations: Camila Cabello CLAPS BACK, Says Fifth Harmony Blindsided Her With That "I Quit" Statement (Cosmopolitan)