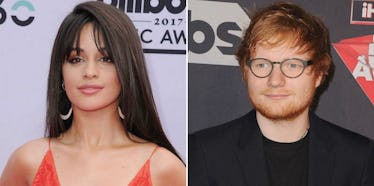 Ed Sheeran Compared Collab With Camila Cabello To Beyoncé And The Internet Lost It
Jon Kopaloff/Getty Images
The BeyHive is lighting up today because of a comment Ed Sheeran made about his upcoming collab with former Fifth Harmony member Camila Cabello.
In an interview with Hugo Gloss, a Brazilian entertainment outlet, Sheeran said the song he wrote for Cabello is similar in style to Beyoncé and Jay Z's hit to end all hits, "Crazy In Love."
The BeyHive didn't like it because they took it as Ed saying Camila is the new Beyoncé, which, no offense to Camila, she is NOT. But in defense of Ed and Camila, that is not what he was trying to imply.
He was simply saying the two songs are similar in the sense that they both focus on big vocals and brassy sounds. That's it.
In the video, he says,
See that, I like that song. I like that song a lot. I had like a thought in my head, I was like — because they said Camila's putting this record together — I was like 'I know what I want Camila to do as a singer.' Like, if I heard this song on the radio, I'd be like, 'I'm glad Camila did that.' So I demoed up this song where I sing really high as if I'm a girl, singing all these lyrics about being a girl. I sent it off to her. And she kind of took it apart and made it obviously sound like her. So she changed 90 percent of the lyrics on it, and now it exists.
He continued,
It's a bit James Brown-y. Do you know like when Beyoncé first came out with 'Crazy In Love,' and it was just like sass, big vocals? Like that. Camila has a voice that should really be shown off.
But people on Twitter are literally fighting about it, as fanbases do.
I am a proud member of the Hive, so if Ed were legitimately comparing Cabello to The Queen, I would be up in arms as well. But he's not, guys. He's literally not.
And Camila has a great voice! It's undoubtedly powerful, and I love Sheeran's lyrics, so I'm excited to hear this song they worked on together.
But Camila apparently changed, like, 90 percent of Sheeran's lyrics to fit her style more, so who knows if we'll actually be able to tell that the song, called "The Boy," was co-written by Sheeran.
Camila Cabello's new album, The Hurting. The Healing. The Loving., is set to release in September 2017. (Any Milk and Honey fans out there notice the title of Cabello's album is basically exactly like Rupi Kaur's chapter titles? V sus.)
And don't worry, I seriously doubt she or Ed Sheeran will be trying to convince you she's going to replace Beyoncé.
Citations: Ed Sheeran Reveals Co-Write With Camila Cabello (Billboard)