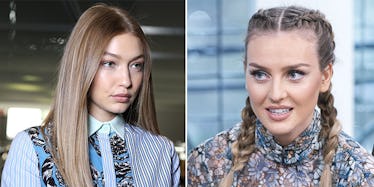 Gigi Hadid Apparently Thinks Zayn Malik's 'Immature' Ex Needs To 'Move On'
REX/Shutterstock
Alright, Gigi, but like… you can at least admit this song is catchy as hell, and we're talking all nine circles.
Little Mix's new single "Shout Out to My Ex" might as well be called "Oh My Fucking God, Zayn, I Still Can't Believe You Broke Up With Me Over Text After Four Years Of  Unconditional Love and Support. WTF, Seriously? Are You Serious? You CAN'T Be Serious."
Zayn Malik's current love, Gigi Hadid, is tired of his ex, Little Mix member Perrie Edwards, dragging her man through the mud and taking the model along for the ride.
One particular lyric in "SOTME" directly references Zayn and Gigi's relationship while simultaneously emasculating the crap out of the "PILLOWTALK" singer.
Heard he in love with some other chick Yeah yeah, that hurt me, I'll admit Forget that boy, I'm over it I hope she getting better sex Hope she ain't faking it like I did, babe
If the radio edit wasn't harsh enough, Perez Hilton reports an earlier draft of the song was even more vicious, reading,
Heard he been fucking some model chick Yeah, that shit hurt me, I'll admit But fuck that boy, I'm over it
YEEEEOUCH. OK. In Perrie's defense, Zayn famously handled their split like a giant sentient butthole, just taking toxic dump after toxic dump on their memory.
Gigi, however, doesn't deserve to get sucked into their stale turmoil, and boy does she know it.
A source told Perez,
Zayn has heard the original lyrics and was surprised with how harsh they were. He understands that Perrie is free to vent and write about whatever and whomever she wants, but obviously he isn't a fan of the song… He's been down playing it to Gigi, and telling her not to give it any energy or thought, and that it just comes from a place of jealousy. Gigi wishes Perrie would just move on and leave her and Zayn alone. She thinks the song and the lyrics are immature.
Everyone relax for a second. This is Perrie Edwards and Zayn Malik. This isn't John Lennon and Yoko Ono. This isn't Tina and Ike Turner. This isn't even Britney Spears and Justin Timberlake.
Perrie and Zayn's feud, much like their music, is not meant to linger among music's greatest legends for eternity.
This will all blow over in a few short weeks.
Or months.
Two years TOPS.
Citations: Gigi Hadid Reportedly Thinks Shout Out To My Ex Is 'Immature' & Perrie Edwards Needs To 'Move On' From Zayn Malik — Oh Snap! (Perez Hilton)