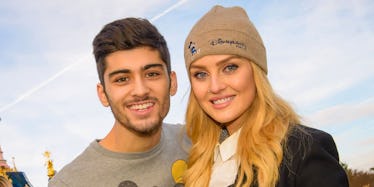 Zayn Malik's Ex-Fiancée Says He Broke Up With Her Over Text Message
REX/Shutterstock
If Zayn Malik thought he could avoid drama by quitting One Direction, he was sadly mistaken.
Of course, this one is kind of on him for dumping his ex-fiancée, Perrie Edwards, over text message.
At least, that's what Perrie says happened anyway, in the new book from her girl group Little Mix, titled "Our World."
The book's not set to release until October 20, but a fan got an early copy and tweeted out a picture of Perrie's excerpt on the breakup.
Here's the full paragraph of what Perrie said in #OurWorld (via: @pezzailoveyou). pic.twitter.com/gvbAzesr9o — LM Music Facts (@musicfacts_LM) October 16, 2016
Perrie wrote,
It was horrible, the worst time in my life. A four-year relationship, two-year engagement ended by a simple text message. Just like that. Even though things in my career were going really well, it was incredibly difficult for me.
Oof. Zayn, man, c'mon.
Listen, I can sort of understand ending a three-month (or shorter) relationship via text message.
Especially if the dumper has a history of extreme anxiety, as we know Zayn does since he has cited anxiety as the reason for several show cancelations.
But Perrie and Zayn were engaged for two years. At that point, you really have to suck it up and at least buy your girl an ice cream cone before you dump her ass.
Interestingly enough, Little Mix's newest single is called "Shout Out To My Ex" and features Perrie wishing Zayn's new girlfriend "better sex" and hoping "she ain't faking it" like Perrie did.
So at least there are no hard feelings!
Just a few months after Zayn and Perrie announced their split, Zayn started going on dates with Gigi Hadid.
They've now been officially dating for about nine months.
While those two seem to be going strong for the moment, I'd personally advise Gigi to keep a close eye on text messages from Zayn.
Citations: Zayn's Ex-Fiancée Says He Dumped Her Over Text (Refinery29)