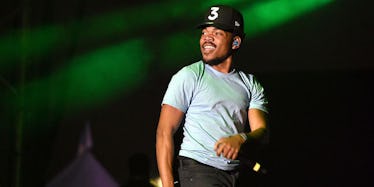 Chance The Rapper, Louis Tomlinson: 9 Hot Celebrity Dads We Can't Help But Crush On
Kevin Winter/Getty Images
'Tis the season of dads. Which means 'tis also the season of hot celebrity dads. And I think that calls for a celebration, so here are some of the hottest celebrity dads in Hollywood.
Chance the Rapper
At 24, Chance the Rapper is changing hip-hop with his soulful sound and breaking new ground in the music business with his insistence on releasing his music for free.
In the past two years, he's met the Obamas, won 3 Grammys, and welcomed his 2-year-old daughter, Kensli Bennett, into the world.
And he's hot on top of it all. It doesn't get much more crush-worthy than that, so here's to you, Chance -- keep killing it.
John Legend
If any couple was #RelationshipGoals last year it was John Legend and Chrissy Teigen.
The pair welcomed their daughter, Luna Legend, into the world in April 2016 and proceeded to be the cutest family on Instagram for the next year straight, leaving the whole world gushing and crushing in their wake.
Ashton Kutcher
Ashton Kutcher and Mila Kunis are my favorite Hollywood love story -- if they ever break up, literally don't tell me.
The couple are notably awesome parents to their daughter Wyatt and son Dimitri, skipping the whole nanny thing to be as involved in their kids' lives as possible.
Fatherhood looks great on Kutcher, and although he may never escape his That '70s Show status as timeless teen heartthrob, the actor has never looked better.
Tom Brady
OK, full disclosure: I am from Boston, so I'm operating at all times with baseline worship of TB 12 in my blood.
That being said, whether you like the greatest quarterback of all time or not, you can't contest that he is A) hot, B) a celebrity, C) a dad and D) that I am crushing on him. So, he's on the list.
Here he is with his supermodel, multi-millionaire wife and two adorable children. The five Super Bowl rings are slightly out of frame.
David Beckham
Speaking of hot sports dads with powerhouse wives, David Beckham is as hot as it gets.
He has four kids with wife Victoria Beckham, the oldest of which, 18-year-old Brooklyn, is becoming a bit of a social media celeb himself, serving Vine boy hair and Tumblr black-and-white aesthetics to his 10 million followers on Instagram.
Orlando Bloom
Orlando Bloom as Will Turner in Pirates of the Caribbean is the kind of crush that unifies a generation.
In 2017, Bloom's good looks are as undeniable as ever and when you see him with his 6-year-old son, Flynn, he's basically irresistible. Truly a hot celeb dad I'll always crush on.
Diego Luna
Diego Luna's career took off after he starred in the 2016 Rogue One: A Star Wars Story.
His kids, Fiona and Jéronimo, were absolutely adorable at the premiere and proved that the Lunas are total #FamGoals.
Louis Tomlinson
Louis Tomlinson was the first One Direction member to reproduce, welcoming son Freddie Reign Tomlinson into the world in January 2016.
Freddie's mother, Briana Jungwirth, and Louis have kept the one-year-old mostly to themselves and I can't blame them. When we do get a glimpse of the little guy, he's almost too cute to handle.
Michael Phelps
Michael Phelps was already the greatest swimmer of all time and the most decorated Olympian of all time. But in 2016, he became an American hero in my eyes when he and his wife, Nicole Johnson, welcomed their son, Boomer.
The couple set up an Instagram for Boomer soon after his birth. @Boomerrphelps is my favorite person on Instagram, no doubt. Baby pics and hot dad shots, what more could you want?