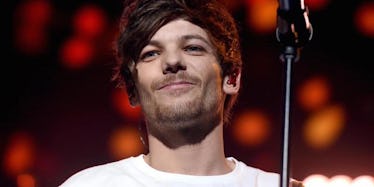 One Direction's Louis Tomlinson Reportedly Welcomes His Baby Boy
Getty Images
THE DAY IS HERE, YOU GUYS! LOUIS TOMLINSON IS REPORTEDLY A FATHER!
Months ago, the 1D fandom was shocked to hear Louis Tomlinson was expecting a child with Briana Jungwirth, a Los Angeles-based stylist.
"WTF, Louis was supposed to father my children," his fans probably thought. It's OK, everyone. We will get through this together.
As time went on and Briana's belly got bigger, it was rumored the couple would be having a baby girl. OK, OK, maybe they're not a couple, but the baby definitely brought these two closer.
Days before Briana went into labor, she allegedly posted this photo of her baby bump on Instagram.
The caption says,
so ready for you my love !!
The baby looks ready for you too, Bri. It's about to POP.
Anyway, the day has finally arrived. According to PEOPLE, Louis and Briana welcomed their adorable child into the world. Except, it's apparently a boy. And we're not quite sure if this is real.
But, PEOPLE reports a source close to Briana confirmed the baby is born.
CONGRATULATIONS, LOUIS AND BRIANA! If you guys need a babysitter, call me.
Citations: Louis Tomlinson Welcomes Son (PEOPLE)