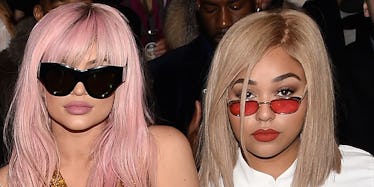 10 Times Kylie Jenner And Jordyn Woods Made You Envy Their Friendship
Nicholas Hunt/Getty Images for NYFW: The Shows
Most of us will never know what it's like to be friends with a mega celebrity. It's hard to even imagine being in the inner circle of someone whose inner circle involves body guards, camera crews, and an army of personal assistants.
So while we sit around and hero worship famous friendships -- Amy Schumer and Jennifer Lawrence, Tina Fey and Amy Poehler, Justin Timberlake and Jimmy Fallon -- there's something even more noteworthy about celebrities' relationships with their lesser-known BFFs.
This is why Kylie Jenner and Jordyn Woods are total friendship goals.
Woods, who is a model herself, has been friends with the youngest Jenner for quite some time now. While it's unclear exactly how they met, we do know they are both friends with Will Smith's family, which could be how they got connected in the first place.
Regardless of how they became friends, we know they hang out. A LOT. And with Jenner's new show, Life of Kylie, set to premiere in August, it's looking like we can expect to see a lot more of their relationship.
In the latest teaser for the show, Woods says,
It's draining sometimes being Kylie's best friend.
Draining or not, these BFFs are quite the pair. Take a look back at all the times Kylie Jenner and Jordyn Woods made us jealous of their friendship.
1. Sometimes they do super casual things like attend New York Fashion Week together -- snagging front row seats, of course.
3. And because it's not a one-way friendship, Jenner gifted her friend with a Cartier "Love" bracelet for her 19th birthday.
4. There was the time they played with Hello Kitty Snapchat filters and reminded us all they are really just two teenagers who love social media.
5. They dressed up in matching mesh swimsuits for a sexy photo shoot by the pool earlier this year.
6. This spring, Jenner and Woods teamed up to make high schoolers' dreams come true when they crashed a prom.
7. When Woods' dad died at the beginning of this year, Jenner not only posted her support on Instagram, she also donated $10,000 to a GoFundMe page set up to help out with medical costs and the price of the memorial service.
8. They hit up Coachella in their festival finest.
9. Woods even helped her BFF throw an epic birthday party for Jenner's rumored new boyfriend, Travis Scott.
10. Basically, they're always there for each other to lend a helping hand -- or lap.
Kylie and Jordyn, you two have a really special friendship. We hope it never fades.