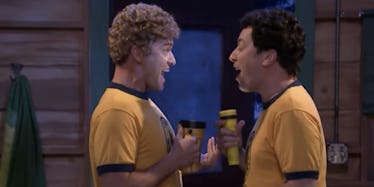 Justin Timberlake And Jimmy Fallon Slay 'Ironic' In Hilarious Camp Skit
YouTube
Honestly, we should all be so lucky in life to have a friendship like the one Justin Timberlake and Jimmy Fallon clearly share.
These two are tighter than Fort Knox, and they go together like Lucy and Ethel, peanut butter and jelly and hard alcohol and cocaine.
Justin Timberlake & Jimmy Fallon are best friend goals #FallonTonight #JTonFallon pic.twitter.com/mRIzszFS02 — Marylisse (@marabara88) October 27, 2016
Wednesday, JT and Fallon took their relationship to the next level by traveling back in time to spend a night at Camp Winnipesaukee.
As you can see in the video above, this night took place in 1996, and despite the odd fact Justin Timberlake and Jimmy Fallon were at summer camp in October -- something JT pointed out -- this skit was absolutely hilarious.
Whenever these two get together, it's a rip-roaring good time, and Wednesday night was no exception.
To start off the night, Timberlake had Fallon guess what his costume was, and after incorrect guesses of Steve Urkel and Zack Morris, Fallon finally hit the nail on the head with his Blossom guess.
OK, guys.
After that, Timberlake and Fallon broke into a very quiet rendition of Alanis Morissette's "Ironic," and it was lit AF.
Before we go any further, I think we should all take a moment to listen to the original version of Morissette's hit.
Awesome, right?
Anyway, back to JT and Fallon. Just as the volume was getting loud in the bunk, "Mr. Fletcher" stormed in and told the pair to keep it down.
We all know a Mr. Fletcher, don't we? Like, turn down for what, bro?
After Mr. Fletcher scolds Justin Timberlake and Jimmy Fallon and exits the cabin, the pair try to go to sleep, but when you got that feeling, you just have to sing and shout some Alanis Morissette.
Mr. Fletcher comes back in, of course, but you can't keep Justin Timberlake and Jimmy Fallon down. Now, let's all jam out to "Ironic" for the remainder of the day!
Citations: Justin Timberlake and Jimmy Fallon Return to Camp Winnipesaukee to Wreak Musical Havoc (E! News)