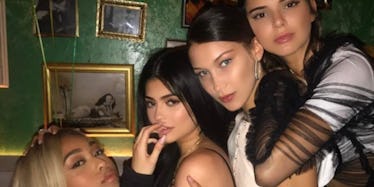 Kylie Jenner Celebrated Travis Scott's Birthday With Him And The Pics Are Epic
Instagram
If Kylie Jenner is trying to make Tyga jealous post-breakup with her pics on Instagram and Snapchat and life in general... it's probably working.
Can someone go check on Tyga, please? Something tells me the Kardashians/Jenners are EXTREMELY good at breakup revenge plots, and I just want to make sure he's doing OK. I'm a good friend like that, what can I say?
This weekend, Kylie Jenner attended her rumored new boyfriend Travis Scott's 25th birthday party and Kendall Jenner, Bella Hadid and Jordyn Woods helped make it all go down.
The couple was first seen at Coachella together, then a basketball game last week and now at Cipriani for the party.
The 19-year-old makeup mogul is keeping all of her social media channels very busy ever since her split from Tyga just a couple of weeks ago, and this party for Travis Scott is part of that.
Since the breakup, Kylie has hosted a party at Coachella, released a new line of lip kits with sister Kim Kardashian West and has been seen out with friends and her new guy living her best life.
The party for Travis seemed pretty low-key compared to other Kardashian-planned birthday parties, but I'm gonna guess they were all hammered.
I was also hammered all weekend, but I wasn't invited to this party. Kind of rude, but I get it.
I don't know Travis that well, so Ky probably wanted to keep things small for their first birthday as a couple.
This pic just proves a great time was had by all.
This is you and all of your friends when you're drunk at a bar but want to take a hot pic.
"Everyone squint your eyes so we look like we're posing."
And this is the pic that happens when the person taking the picture says, "OK, now one with me in it, assholes."
Kylie obviously had to document the whole party on Snapchat as well, because how else will her breakup revenge plot be carried out? Everyone knows if you want to make your ex jealous, you have to spend (probably) thousands of dollars on your new hookup's birthday party and then post videos of the party for, like, 18 hours straight.
Cute hats, guys, did Kris pick them out?
SWING THAT CACTUS, GIRL!!!
If you're me, you spend your breakups curled up in a ball on your bed for six days remembering you don't actually have an ex and you're just crying alone for six days because your life is depressing. Hahaha. Kidding! (Narrator: She was not kidding.)
I have just one little question after seeing all of these posts from Travis Scott's birthday party...
LITERALLY, WHERE IS TRAVIS SCOTT?
(No Pepsi was harmed during the making of this party.)
Citations: Kylie Jenner Celebrates Travis Scott's Birthday With Sister Kendall and Bella Hadid -- See the Pics! (Entertainment Tonight)