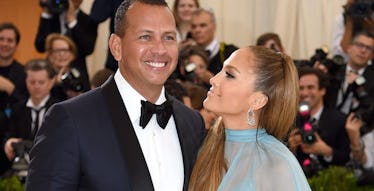 10 Photos That Prove J. Lo and A. Rod Are Major Couple Goals
Dimitrios Kambouris/Getty Images
Celebrity couples make the world go round. Some pairs we don't quite see coming *cough, cough* Selena Gomez and The Weeknd, but others just go together like peanut butter and jelly.
When World of Dance judge and overall perfect human, Jennifer Lopez, started dating all-star athlete, Alex Rodriguez, we couldn't stop staring. Actually, it hurts a little because they're so gorgeous; it's like looking at the sun.
Looking at this relationship from a completely superficial view, they're perfect. I also love that both of them are no stranger to serial dating.
J. Lo has been linked to a few significant (younger) men like Drake and Marc Anthony, while A. Rod has dated Hollywood hotties like Cameron Diaz, Demi Moore, Kate Hudson, and Madonna (to, uh, name a few).
I don't care what anyone says, these two make a great pair, and I want to see more "bae-cation" pics! For now, here are 10 pictures that prove they are the hottest celebrity couple of the moment.
1. Glammed up
These two are having a glam moment, can we all appreciate? Of course, J. Lo always looks amazing. She could legit wear a potato sack on the red carpet and we'd all be like, "those arms, though!"
Take note of how dapper A. Rod looks, too. Do you think Jennifer is picking out his clothes yet? Wifey status.
2. Dressed down
No makeup, no problem. Love when these two are dressed down and casual.
3. PDA
A picture really is worth a thousand words. These two are such fire.
4. Traveling
Here's a few shots from their "bae-cation" to Paris. The pair seemingly had a great time. I bet they didn't fight over stopping for directions!
5. Date night
J. Lo is 47 years old. I repeat, FOURTY-SEVEN. She rocks a bodycon dress harder than I ever will.
6. Cuddling
I just can't with these two. It should be illegal for humans to be this attractive.
7. Red carpet
Perhaps the epitome of a Hollywood relationship is the ever important red carpet. May I say, I think they've mastered it.
8. Outdoorsing
OK, so I don't know if lounging on a yacht counts as an outdoor activity, but it should! How many buttons does A. Rod have undone on his shirt? Not complaining, but why even bother?
9. Cheat-day treating
Judging by her killer body, no way is J. Lo eating ice cream on reg. This must not be a normal occurrence. When there is this much hotness in a couple, sometimes you need to cool down.
10. Touristy stuff
Who is this lucky, lucky man that got to take their vacay photos? Was he just walking by? Why can't I live a graced life?!
While us mere mortals may never be as hot and glowing as J. Lo and A. Rod, we awe in the glory of their relationship. If things do go south, J. Lo is the master at flawlessly getting over a breakup. Wishing them the best!