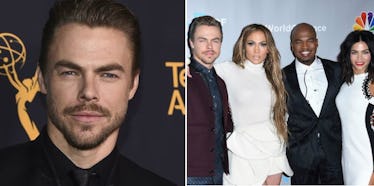 Derek Hough Talks About His New Dance Show And The Morning Rituals He Swears By
REX/Shutterstock
If Derek Hough's energy could be bottled up and sold, I'd order a case -- no questions asked.
The six-time winner of "Dancing with the Stars" is gearing up for a 48-state dance tour this summer with his sister Julianne, eagerly awaiting the May 8 premiere of his new show, "World of Dance," and currently promoting the Flonase Sensimist 2017 Greater American Road Trip, a partnership that aims to empower others to be greater than their allergies -- a cause that hits home for him.
And in his free time? "I like to go on adventures," he says.
The 31-year-old from Salt Lake City, Utah, has a resume that includes theater, movies, television, music and just last year playing Corny Collins in the production of "Hairspray Live!"
It's tough to imagine something he can't do.
Derek took a break (a brief one, because what he really likes to do is move) from his hectic schedule to sit down and talk about his current projects and provide a little glimpse into what drives him.
When asked how he starts his days -- which for the rest of the year will often be in a different bed in a different city -- Derek revealed,
For me, it's really important to basically have rituals… one is waking up in the morning.... I struggled a lot, I mean who wants to wake up in the morning? But the one thing I've been trying to practice lately is when I wake up, I wake up. And that's it... It's like when you wake up, just wake up and start your day. And you'll find that you'll have more energy and better energy throughout the day. So that's a ritual I've been practicing lately and it's been amazing.
Once Derek gets up, he tries to live by another principle, and it involves a lot of green juice.
There's this saying that I live by... it's alkaline energizes -- basically making sure that your body is at a high alkaline level because we have very acidic lifestyles, whether it be our stress or the foods we eat or the drinks we drink... it's important, though, that we alkalize our body. You can't have too many greens, you can't eat too many greens. It's so good for you... that's what gives me sustainable energy, where it's not like I get that spike from drinking an energy drink or coffee and then I get a crash. When I'm very alkaline, my energy is... everlasting, and I can tell.
The Emmy Award-winning choreographer stays in impeccable shape, but did reveal he has a penchant for popcorn, which tends to lead to what he calls "popcorn hangovers."
"I can tell when I splurge, and I have my nachos or popcorn or something like that," he admitted, "boy, do you feel it when you start putting that back in your body."
In terms of exercise, movement is a way of life for him. "Our bodies were meant to move," he said, "as simple as that."
While not a regular on season 24 of "Dancing with the Stars," and although he offers no predictions on the current cast (which, yes, includes "Bachelor" Nick Viall), Derek will be performing in the third week -- so don't worry, we will get to see him dance.
However, he'll soon be assuming his new gig on "World of Dance," alongside fellow judges Jennifer Lopez and Ne-Yo and host/mentor Jenna Dewan Tatum.
"It truly is a worldwide celebration of dance," Derek said about the show, before correcting himself, "I shouldn't say celebration — it's a competition."
The talent, who range from Flamenco to ballet to tap to hip-hop dancers, will be competing for a $1 million prize, something that's unprecedented for a dance competition. In case you need that put into perspective, Derek can help.
It's one thing to showcase and present us with something, but you're battling for a million dollars, which is crazy to think that... you go on tour with the number one artist in the world for a decade, as a dancer, and not make anywhere near a million dollars. So the fact that this show is providing that opportunity is pretty remarkable.
Also this spring, Derek and Julianne hit the road for the third time together on their Move Live Tour, which isn't just about the brother-sister duo lighting up the dance floor.
It's designed to empower the audience beyond dance, too.
We actually call our tour 'Move' because we want to inspire people to move, not just physically but also emotionally -- like, what moves them? Our slogan is motion equals emotion, the way you move directly affects the way you feel. We want people to feel great. We want to inspire people to go out, to get outdoors, to go on hikes and to get involved and make our bodies do more.
It might seem like Derek does nothing but work, but that's far from the truth. He's the type of person who practices what he preaches, and to hear him talk, it's difficult to tell where work ends and play begins.
For example, ask Derek what he does in his spare time and he'll gladly tell you about the adventures he's been going on with his dad.
My grandpa passed away last year and when he did, I told my dad we need to spend more time together. Like, 'What are we going to do with the time that we have left?' was a question that I started asking myself. If I had a couple of days off, normally I would go do something in LA, but then last year I made it a mission to go on these adventures with my dad.
From Yellowstone to the Grand Tetons to the Mayan Ruins in Mexico, Derek and his dad's adventures look about as incredible as they sound. And they don't have to be extravagant week-long trips... they can be feasible day trips, he explained.
Speaking of adventures, right now, the YouTube-famous Eh Bee family is driving cross-country, stopping along the way to do some good work -- helping out at animal shelters, outdoor conservation efforts, etc. -- all based around allergy-triggering tasks (you can follow their journey here).
Derek didn't skip a beat when asked why he got involved in this project and with this family, whom he calls "beautiful souls."
He said,
I'm very close to my family and the idea of working with another close family and having them go on the road and experience this adventure together as a family giving back to the community, it's really special.
Derek personally suffers from allergies, particularly dust, which is often found in the theaters and buildings where he performs, so he swears by the Flonase Sensimist Nasal Spray and even keeps it as part of his "survival kit" on tour.
"I actually suffer from allergies and it's very debilitating, and it's hard for me to perform... I can't focus, my nose is stuffy, my eyes are watery, so I really found relief with this product," he revealed.
There might not be a "typical" day for Derek Hough, but he's pretty adamant about what gets him up every morning. "For me, family, adventure, movement -- it's all very important."