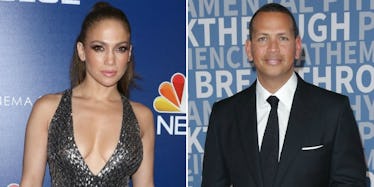 Sorry Drake, But JLo Has Been Dating Alex Rodriguez For 'A Few Months' Now
REX/Shutterstock
Oh my God, we're going to get so much moody Drake music after he finds out about whom JLo is dating.
That's right. Jennifer Lopez has officially moved on from Drizzy, who gave her a $100,000 diamond necklace at one point and at another, was spending his Valentine's Day with Swedish twins (like one does).
Um, I guess there's no backsies on that necklace, huh? This is why you don't give your brief fling more than a toothbrush, you know, for when they stay the night.
The lucky guy JLo is currently seeing? Well, he's a former Bronx resident. And no, it isn't my Uncle Jerry (sorry, Uncle Jerry).
It's the ex-Bronx bomber and MLB legend Alex Rodriguez, according to Page Six.
Honestly, good for her.
Drake was kind of wishy-washy. Sure, they were seen dancing and cuddling, but he was also spotted with a retired porn star when Drake and JLo supposedly were together.
Not even trust falls could salvage whatever was going between them after that.
But hold up, y'all. This new couple, whom I will appropriately dub J-Rod, isn't necessarily that new. An insider close to the couple said,
They have been seeing each other for a few months — and were together in LA this past weekend.
For a few months? Wait a second, let me do some brief calculations.
This means JLo's brief romance with Drake most likely coincided with her current squeeze A-Rod. Get it, JLo. Way to... play the field!
Seriously, A-Rod... (*winks*) is a catch! All right, I'll stop.
You know how we all became suspicious when Drake first posted that Instagram photo of the two of them at JLo's concert for her Vegas residency?
Well, Alex also visited JLo at one of her Sin City performances at Planet Hollywood.
The insider added,
They are really into each other because they have so much in common — from their Latin roots to their love of New York and their kids.
It also looks like the two are social media official. JLo liked one of Alex's Instagram photos announcing his position as a full-time baseball analyst at Fox Sports.
And you don't like someone's Instagram unless you want to be in a relationship with them. (My God, I've said too much to my 97 Instagram followers.)
To give a brief timeline, Alex has gone from sliding into home base to sliding into JLo's DMs to sliding into home base... with JLo in the boudoir! Heyo!
That's a pretty badass progression, right there.
JLo recently made it clear to the world she was not with Drake while on "The Daily Show." She told Trevor Noah,
Let me clear this up. I am not with Drake. Maybe that's all I need to say.
Uh, all you need to say?
Perhaps you should have said, "I'm bagging Alex Rodriguez, ever heard of him?"
Once again, I'm sorry for all the baseball puns.
Alex recently split up with Silicon Valley CEO Anne Wojcicki back in February -- it looks like he got over that quick!
Honestly, in all seriousness, I wish JLo and A-Rod the absolute best.
If their matching abbreviated nicknames are any indication of their compatibility, the two are meant to be.
Citations: Jennifer Lopez and Alex Rodriguez are dating (Page Six)