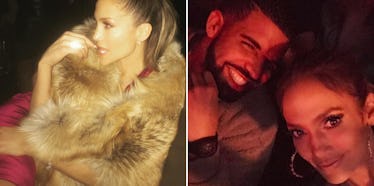 Drake Bought JLo A $100K Necklace And You Can't Even Get A Text Back
Instagram
Drake just casually dropped $100k to buy Jennifer Lopez something shiny.
So if Drake and JLo are just "dating" for the free press, it's turning into a pretty expensive publicity stunt.
According a report from E! News, Drake purchased a $100,000 platinum and diamond Tiffany Victoria necklace for JLo, aka his new boo.
Drake apparently gave JLo the necklace on New Year's Eve, and some people think it's the necklace she's wearing in this photo.
This is hardly the first time Drake has been extra AF about the girl he's dating — or at the very least, wooing.
Remember when he literally rented a billboard to congratulate Rihanna for receiving the Video Vanguard Award at the 2016 MTV Video Music Awards?
So yeah, this necklace for JLo seems like par for the course for Aubrey.
The rumors of Drake and JLo dating first surfaced after JLo posted this cozy Instagram a month ago.
At that point it was like, OK, this is cute, but this is probably just a friends photo.
But a few weeks later, Drake one-upped JLo and posted an Instagram of the two straight-up cuddling.
Then it was like, wow, wait, maybe those rumors are onto something?
And THEN, a week later, it happened: They kissed. (And grinded, and slow-danced.)
At which point it was like, oh my God, I think this is really happening?
And now here we are, two weeks into the new year, and Drake's out here buying JLo $100,000 diamond necklaces from Tiffany.
I honestly don't know what more evidence you guys need: Those two crazy kids are dating.
I will grant you, maybe, just MAYBE Drake is just doing all of this over-the-top crap to make Rihanna jealous. (Which would never work because she's Rihanna.)
But I kind of think Drake really is just that extra, and JLo's just extra enough to be into it.
Citations: Drake Buys Jennifer Lopez a $100,000 Necklace: See More of His Most Romantic Gestures Ever (E! News)