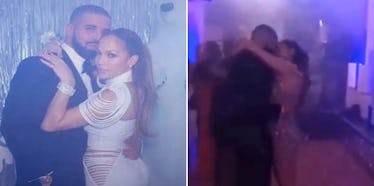 Drake And JLo Seen Kissing And Grinding At Party In PDA-Filled Videos
Instagram
So... apparently Drake and Jennifer Lopez WEREN'T just trolling everyone with this whole dating thing.
The pair literally went to prom together and were happily making out and grinding for the camera. It doesn't get much more #official than that.
Multiple people posted videos of Drake and JLo getting up close and personal at this prom-themed party early Friday morning.
(It seems like the party had something to do with an unreleased Drake and JLo collaboration, heard playing in the background of these videos.)
UH, yeah, that's definitely some lip on lip action right there.
And YEP that's definitely some straight-up grinding...and slow dancing...and intense gazing into each other's eyes.
A few videos captured a sneak peek of what seems to be their upcoming song.
Drake sings,
You need me to get that shit together.
And JLo replies,
You and me, together.
Then later she sings,
Tell me how much you need.
It looks like Drake and JLo were crowned prom king and queen.
They took some photo booth pics and kissed AGAIN.
So much for those Taylor Swift rumors! It looks like DraLo is here to stay.
Rumors first began swirling that Drake was dating JLo a few weeks ago.
Then many fans took this cuddly Instagram photo that Drake posted on Wednesday as confirmation.
Personally, I was kind of still holding out hope Drizzy and JLo were just messing with us because of those rumors.
But straight-up making out on the dance floor would be taking the joke a little far.
Jennifer Lopez turned 47 this past summer, making her 17 years older than Drake, who is 30.
No judgement from me on that — JLo will always be hot, no matter how old she is.
But I am kind of mad about Rihanna — who apparently recently unfollowed her friend Jennifer Lopez on Instagram.
AubRih was suppose to be forever, dammit.
Citations: Drake and J.Lo Kiss, Dance, and Photobooth at a Party (ELLE)