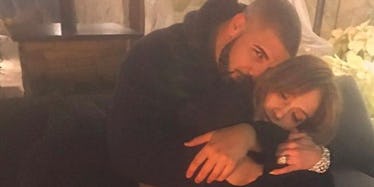 Drake And Jennifer Lopez May Really Be Dating, According To PDA Instagram Pic
Instagram
The year 2016 still isn't over so brace yourself for a brand new batch of craziness.
Drake and Jennifer Lopez. DRAKE AND JLO.
They just seemed to confirm their rumored relationship with this mushy Instagram photo of them cuddling on a couch.
There's no caption, only serious side-eye from Drake.
So it's happening. It's definitely on. They are a thing. JLo has stolen Drake away from Rihanna — the person he's supposed to be with. How could she do this? I feel like I don't even know her anymore. She is no longer Jenny from the block.
How this relationship formed exactly is a bit of a mystery. But rumors were sparked after JLo posted a pic of her with Drake a couple of weeks ago.
Then they were caught going to a not-so-private dinner in West Hollywood. They are reported to have turned up with around 20 other guests, forcing the entire restaurant to close because they're so damn famous.
TMZ claims to have footage of the two leaving the venue.
Sources told the website it was only a matter of time before the two got together properly.
BUT IT'S NOT SUPPOSED TO BE LIKE THIS.
I'm going to transport you back to August when Drake pretty much declared his love for Rihanna at the VMA awards at Madison Square Garden, New York City.
Then the couple blessed Insta with a series of cute photos, including one of toy shark which later turned into matching tattoos!
Drake and JLo is a controversial mix for Rihanna, because the girls go back a long way.
A while back, Ri gifted JLo a pair of killer heels with a note that read,
To the baddest, because I know you're gonna wear them better than me!! From Badgalriri.
News of DraLo must be pretty raw for Ri, because E! reports she's unfollowed her old pal on Instagram.
Please end, 2016.
Citations: DRAKE AND J LO SOMETHING'S GOING ON (TMZ)