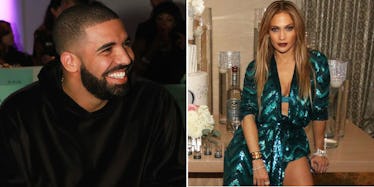 Now Fans Think Drake And Jennifer Lopez Are Dating: Here's What We Know
REX/Shutterstock
SooooooOOOOOOooooooooOOOoooOOooo... I guess Drake and Taylor Swift aren't a thing?
I know, I know, as much as we were all *pukes in mouth* totally pulling for Drake and Taylor to work out it's looking more and more like they were just friends the entire time.
They are just platonic, different-gendered friends who have their own hashtag and talk about each other on Instagram all the time yet are somehow 100 percent for sure not boinking.
That doesn't mean Drake isn't getting busy, though.
Reportedly, Drizzy has been spending a lot of time with Jennifer Lopez.
The two were caught going to a private dinner event in West Hollywood before leaving together in the same car. They were allegedly joined by 20 other guests forcing the restaurant to close down for the party.
TMZ claims this is footage of the two leaving the venue.
This comes after Drake's recent trip to Las Vegas to see Jenny from the Block perform not one but two performances of her "All I Have" show.
Sources close to the potential couple are denying claims these two are a thing.
They are working together on new music. If it's developing into anything else, I'm not sure.
Other sources close to the situation claim it's only a matter of time until the two shack up.
This recent romance speculation sort of puts a wet blanket of rumors saying JLo and Marc Anthony, who split in 2011, may be getting back together following a quick on-stage kiss at the Latin Grammy Awards.
Earlier this month US Weekly reported a source close to the couple said Anthony was still in love with Lopez and he was actively trying to get back with the singer.
He even allegedly left his long-troubled relationship with model Shannon De Lima when he heard Lopez had split from her on-again-off-again beau, Casper Smart.
So, JLO, whose it gonna be? Drake or Marc?
Citations: Drake And Jennifer Lopez Are Reportedly Dating (Huffington Post)