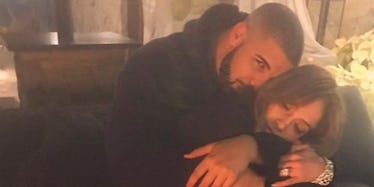 Jennifer Lopez Finally Confirms Whether Or Not She's Dating Drake
Instagram
Will Drake ever find love?! Or will we be delighted by songs about women taking him for granted for many moons to come?
Despite posting photos of the two snuggling up on Instagram, Drake and Jennifer Lopez have been pretty hush-hush about their supposed romance.
I mean, Rihanna unfollowed JLo on Instagram -- surely, that means Drake and the former Fly Girl were pretty serious.
Drake even dropped $100,000 on a necklace for JLo. You know the last time someone dropped $100,000 on me?
I was helping out a friend who was transporting a Porsche 911 Turbo on the back of a semi. It wasn't locked in... It fell, breaking every bone in my body, and ended my career as a cross-country truck driver. Now, I write...
But still, rumors surfaced the two singers had to break up, because they were just too busy.
Now, the final nail in the coffin that was Drake and Lopez's relationship has been hit. Lopez appeared on "The Daily Show" where host Trevor Noah asked her flat out,
Genuinely, did you get with Drake because you didn't know me yet?
After she laughed, Lopez responded,
Let me clear this up. I am not with Drake. Maybe that's all I need to say.
Just two months ago, however, Lopez said she and Drake were working on a song together.
So... it seems even if the two maybe were hooking up, it's definitely over now. Maybe they never hooked up at all, and it was just a clever marketing ploy to get us excited for their upcoming song?
Man, this is just like in high school when I dated the cutest guy because we were the stars in the musical together. Except, you know, no one cared, it didn't boost ticket sales, and we were both super gay.
Citations: Jennifer Lopez Confirms She Is NOT Dating Drake (Teen Vogue)