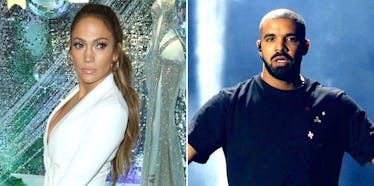 The Reason Drake And JLo Stopped Seeing Each Other Makes A Lot Of Sense
REX/Shutterstock
Welp. That's over.
Jennifer Lopez and Drake began dating earlier this year, leading fans to calmly reflect with, "Them?" and, "All right?" and, "I guess."
Sadly, being impossibly beautiful and (one assumes) loving the movie "Selena" wasn't enough to keep these lovers together long term.
On Sunday, JLo shared a graphic quote on Instagram that hinted at a sort of "Jesus Take The Wheel" approach to her relationship with the 30-year-old rapper.
Now, a mere four days later, a source told E! News,
[JLo and Drake] have taken some time apart, not because they don't want to be with each other, just because their schedules started getting insane.
Despite rumors of hard partying and infidelity that plague so many Hollywood pairings, "schedules" appear to be a particularly aggressive, relationship-killing cancer among stars.
It's no secret entertainers and professional athletes are crazy busy — JLo resumed her "Jennifer Lopez: All I Have" residency in Las Vegas on Wednesday and Drake kicked off his Boy Meets World Tour in Europe in January — but it sure seems like "schedules" are to Hollywood breakups what "exhaustion" is to Hollywood rehab stints.
The source added,
JLo and Drake are still talking, so people should know they are not in any means angry or that some incident happened. It mainly had to do with timing… They have just cooled things off a bit and it's not as fast as it was in the beginning. They very well may go to dinner tomorrow or in a month. They are in each other's lives, just doing their own thing now.
Maybe dinner in a month, perhaps? We'll take it!
JLo began her relationship with Drake under relatively casual terms, but Drake reportedly approached dating Jenny From the Block with the exact bleeding heart enthusiasm we've come to expect from our boy.
In January, a different source told E! the "Degrassi: The Next Generation" alum "is in it all the way," while "JLo is peddling slower, but still really enjoys his fun and loving company."
A classic case of same book, different pages. Sing us out, Jen.
Citations: Jennifer Lopez and Drake Have "Cooled Things Off a Bit," Source Says (E! News)