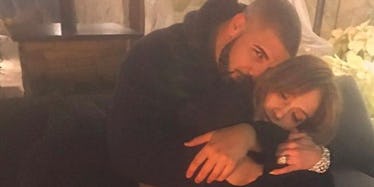 JLo Posts Cryptic Instagram About Drake: 'If It's Meant To Happen, It Will'
Instagram
Despite the fact Drake can't help but go on secret dates with porn stars, Jennifer Lopez is being open-minded about the future of their relationship.
I'd call it a "relationship" if they weren't so damn confusing about all of this.
The couple first sparked dating rumors after Drake popped up at one of JLo's shows in Vegas back in December.
Since then, they've been spotted out on dates numerous times. Apparently, Drake really likes Lopez.
He bought her a Tiffany necklace worth north of $100,000, which she wore to ring in the new year. As if that wasn't enough, the 30-year-old rapper and the 47-year-old singer have been seen holding hands and locking lips on occasion.
Oh, and remember the time they performed trust falls into each other's arms?
So, this makes us all wonder... Where do these two stand exactly?
Not only is Drake known for slyly sneaking off and going on secret dates with porn stars, but he's also known for being obsessed with someone for a few weeks before finding another fling.
Hey, Serena Williams! Hey, Rihanna! Hey, Taylor Swift! I doubt that lineup is something JLo wants to be a part of.
So, what's her stance here? Is Dra-Lo ever going to become a real "thing" or is it just one big waste of time?
Well, she hasn't publicly stated it, but she just might be hinting at her relationship with Drake in a new Instagram post!
According to Jennifer Lopez's most recent Instagram post, she could be hinting at her recent fling with Drake.
Yeah, that seems like a subliminal post to me. I can usually sense these things.
You hear that, Drizzy? JLo isn't going to force anything, but she won't be around forever!
All jokes aside, it's hard to tell what Jennifer Lopez is actually alluding to in her cryptic Instagram message. Not only has she been on-and-off with Drake, but she was also spotted chatting it up with ex Casper Smart, according to E! News.
Not to worry, Dra-Lo fans. The same source spoke on Drake and JLo revealing they "are still hanging out." That's better than nothing, right?!
Citations: Listen Up, Drake! Jennifer Lopez Has A Very Cryptic Message About 'Timing'! (Perez Hilton)