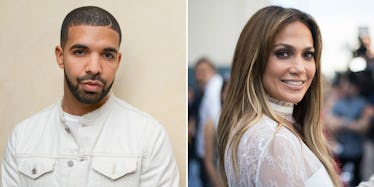 Drake And JLo's Lavish Steak Dinner Date Proves They're Our Relationship Goals
REX/Shutterstock
On December 12, Drake and Jennifer Lopez unexpectedly sparked rumors regarding a possible relationship between the two.
Drake had visited the 47-year-old star in Las Vegas for her "All I Have" concert in Las Vegas and made his presence felt by snapping a few romantic selfies with Lopez.
In one of the pics, they were pictured getting pretty close to each other.
The second photo from their rumor-sparking encounter was a photo of the 30-year-old Toronto rapper holding up Lopez's diamond-encrusted Yankees cap.
He captioned that photo on Instagram writing, "Sure, I'll hold your diamond encrusted fitted while you catch this Vegas body."
Since then, Drake and JLo have heated up their rumored romance quite a bit.
Their most recent sighting was at Catch LA where they joined each other for a "private" steak dinner date.
According to People, Drizzy and JLo arrived at the Los Angeles hotspot separately before meeting up to dine together. The report states they "sat very close to each other and were all laughs and smiles."
So, we all know Drake is fancy and JLo is JLo so this leaves one BIG question: What did they order? It was chicken wings and french fries, wasn't it?!
Nope, definitely not. The rumored couple stuffed their faces with A5-grade wagyu beef and Alaskan king crab. Of course, glasses of water had to take a backseat to glasses of fine rosé. Must be SO nice.
This isn't the first time Drake and Jennifer Lopez have linked up for a hot dinner date. Earlier this month, they dined at Nobu in Los Angeles for a late dinner. A source told People,
Drake had his arm around her and they looked very cozy. Jen was giggling. Drake was very flirty with her, and you could tell that she had a great time.
As if the lavish dinner dates weren't enough to woo JLo (they're not), Drake generously gifted Lopez a Tiffany Victoria necklace worth north of $100,000. She must have loved it because she wore it to ring in the new year.
If that's not a clear indication these two are looking forward to spending more time together this year, I'm not sure what is. At this time, there as been no word on whether or not Rihanna gives a fuck. I doubt she does.
She's likely over it by now. I mean, these two are already trust-falling into each other's arms (literally)...
Citations: Jennifer Lopez and Drake Have Luxurious Date Night with Rosé, Steak and King Crab (People)