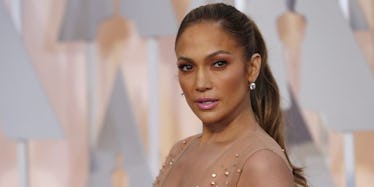 JLo Posts Sexy Picture After Drake Went On A Date With A Porn Star
REUTERS
What do you do when someone you just started dating is tagged in a picture with a potential romantic rival?
You do what Jennifer Lopez just did (duh).
It's 2017, and JLo and Drake are a thing (somehow, someway). But are they official? Are they keeping it casual? Are they booty-calling on Tuesday nights, but not getting brunch the next morning?
Well, you can allow your speculation to run even more rampant because Drake was recently photographed having a dinner date in Amsterdam with another lady: retired porn star Rosee Divine.
OK, let's all calm down for a second. First of all, despite many media outlets insisting it was definitely a date, it looks like it was more of a group setting based on the pictures.
However, if you're JLo right now, I'm assuming you're going to be pissed off no matter what.
Needless to say, Jenny from the Block responded to all of this with an absolutely flawless Instagram post on Tuesday evening that made it crystal clear what Drake was missing.
WHEN THEY GO LOW, WE GO HIGH... BY GOING JLO. (OK, I'm still working on the slogan.)
JLo captioned the post, writing,
When the party is over for you and you gotta wait for your people cause everyone drunk and still going... lol
Let me put on my old subtext glasses. Let's see, let's see. So, what Jennifer is really saying is,
I'm having a lot of fun without you, Drake, and my friends and I are getting hammered. Maybe I'll smooch my best guy friend Gus... lol
*Take off glasses* Yep, that's a rough translation for you.
Honestly, I think JLo and Drake are going to be just fine. I mean, let's not forget the $100,000 necklace Drake bought her and the fact he's getting to know her kids.
It would seem DrakeLo (trademark) is here to stay in 2017...
As long as he's not trying to date porn stars on the side.
Citations: Look at what you've got at home! Jennifer Lopez looks incredible as she poses for a sexy snap after new beau Drake was spotted with porn star Rosee Divine (DailyMail.com)