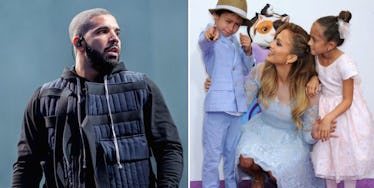 Drake's 'Getting To Know' JLo's Kids, So Things Are Getting Serious
REX/Shutterstock
It's official: Drake is ready to become a father. LOLOLOL.
The Views artist has been spending a lot of time with Jennifer Lopez, and the two are rumored to be dating.
But now, Drake and JLo are taking their relationship to the next level because Drake is "getting to know" her kids.
One source told the outlet,
Drake has been hanging out at Jennifer's new house in Bel Air. He has been there several times and is getting to know her kids.
THIS IS GETTING SO SERIOUS!
The insider added,
They all have a lot of fun together. Her kids really like him and they know all of his songs. They like having him around.
It doesn't stop there, though. Drake reportedly "loves seeing Jennifer in 'mom mode.'" The source explained,
When he goes to her house, they get away from work and just chill on the couch, make dinner and watch movies.
Drake and JLo were rumored to be dating at the beginning of December when the couple uploaded pics on Instagram of them cuddling and hanging out.
THEIR PDA ON INSTAGRAM IS OUT OF CONTROL.
Drake has fueled the rumors by buying JLo a $100K necklace and taking her out for a private steak dinner date.
Hmmmm, expensive gifts. Nice dinner. THEY ARE 100 PERCENT DATING, NO ONE TRY TO TELL ME OTHERWISE.
If you want the icing on the cake, check out these pics of Drake and JLo smooching.
Yup, that's definitely a smooch. OW OWWWWW, GET IT, D.
Drake and JLo have not yet confirmed their relationship status, but we have enough receipts to know the truth.
SO, WHEN'S THE WEDDING?!
Citations: Drake Meets JLo's Kids (Us Magazine)