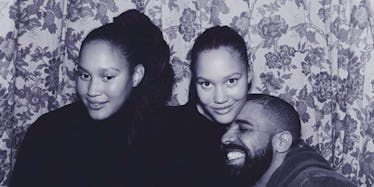 Sorry, JLo: Here Are The Swedish Twins Drake Spent Valentine's Day With
Instagram
It kind of seems like Jennifer Lopez would really love the two Swedish ghosts Drake spent Valentine's Day conjuring, but I'm just here to gossip, not make supernatural friendship predictions.
The Lejonhjärta twins, Elizabeth and Victoria, are two hauntingly beautiful models who spent the holiday hanging with Toronto's best boy while JLo was nowhere in sight.
Drake took the two to Novikov in London for dinner before one of his concerts, Perez Hilton reports, days after sharing a photo of the twins backstage, rocking his merch.
Liz and Vic's friendship with Drizzy is pretty longstanding. Back in December, the 30-year-old even got their last name tattooed on his forearm.
JLo's Valentine's Day was no slouchfest, though. The diva posted a picture on Instagram of a serious haul of flowers and entire chocolate cake.
Jenny From The Block is too busy bringing down the house at her Vegas residency to worry about how her ex is spending his Tuesdays.
The pair also have a pretty amicable relationship at this point.
On the Grammy Awards red carpet, JLo spoke highly of her recent musical collaborator, as though the two of them had never Titanic'd straight into a breakup iceberg.
She told Ryan Seacrest,
I love Drake, he's so brilliant, talented, amazing… we hung out, we have a great time. He's amazing. I have so much love for that boy.
It sure sounds like there's still a chance for love in the future. Right now, yes, OK, Drake is galavanting around town with either two gorgeous twins or one gorgeous twin and a very clean mirror, but all that could change.
A source told E!,
JLo and Drake are still talking, so people should know they are not in any means angry or that some incident happened. It mainly had to do with timing… They have just cooled things off a bit and it's not as fast as it was in the beginning… They are in each other's lives, just doing their own thing now.
Got it. See you both in love tomorrow. Bye.
Citations: Perez Hilton