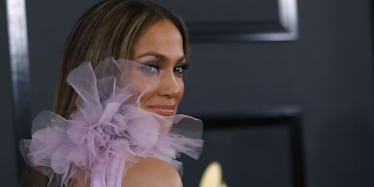 Jennifer Lopez Gushes Over Drake At 2017 Grammys: 'He's Amazing'
REUTERS
Rumors of Drake and Jennifer Lopez dating spread as quickly as their relationship may have ended when he was spotted on a date with a retired porn star.
Lopez, who just presented at the Grammys, spoke with Ryan Seacrest on the red carpet for the event, and he asked exactly what everyone was thinking: ARE YOU AND DRAKE DOING THE NASTY OR NAH?
(Seacrest, a professional, worded it more eloquently.)
Lopez said:
I love Drake, he's so brilliant, talented, amazing.
LOVE?! You love Drake?
She went on to say the two worked together on a song.
So was it all "Fake Love"? Did this Instagram moment mean nothing to the two of them?
Seacrest asked if there were "creative sparks" and JLo replied,
Yes, absolutely we hung out, we have a great time. He's amazing. I have so much love for that boy.
So she's still obviously into Drake -- she's dropped the "L" bomb twice.
But if her Instagram is to be believed, then it's all about timing. She posted a photo that read,
Timing is everything. If it's meant to happen, it will, and for the right reasons.
Which, coincidentally, is exactly the same thing my mom tells me every time I get my HEART BROKEN.
According to a source,
[JLo and Drake] have taken some time apart, not because they don't want to be with each other, just because their schedules started getting insane.
Lopez just continued her Vegas residency and Drake started his Boy Meets World Tour in Europe in January -- that is a long time apart for a budding new relationship.
The source said:
JLo and Drake are still talking, so people should know they are not in any means angry or that some incident happened. It mainly had to do with timing… They have just cooled things off a bit and it's not as fast as it was in the beginning... They are in each other's lives, just doing their own thing now.
If these two crazy kids can't make it work, what hope do the rest of us have?
Citations: Jennifer Lopez Dishes on Drake During 2017 Grammys: "He's Amazing. I Have So Much Love for That Boy" (E!)