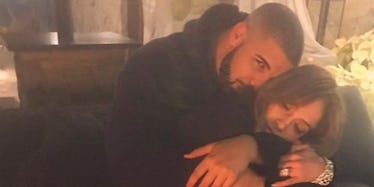 8 Ways You Can Flawlessly Get Over An Ex, As Told By Jennifer Lopez
Instagram
Remember that time Drake dished out $10,000 on a gorgeous platinum and diamond necklace for his then-bae Jennifer Lopez?
Real smooth with the brownie points, Drake, real smooth.
The lavish present was apparently given to the 47-year-old singer on New Year's Eve, and things only heated up from there when they enjoyed a romantic steak dinner at Catch LA.
Shippers everywhere were pumped when Drake posted a picture holding JLo's diamond-encrusted Yankees cap, captioning the snapshot, "Sure I'll hold your diamond encrusted fitted while you catch this Vegas body #Jenny."
UM, Instagram official, much?
Also -- AYO, A-ROD... peep the Yankees cap (but I digress).
Then we blinked… and just like that, it was ALL OVER.
Did Drake and JLo even really happen, though? Yeah, for like two seconds.
It seems like everything was going in the right direction… but way to coax our heartstrings only to leave us hanging in the end, DLo.
Whatever the reason they had for ending things, there was major speculation going around that Drizzy cheated after he was photographed on a dinner date with a woman who was NOT JLo.
BUT Lopez is, of course, doing hot damn fine with Alex Rodriguez now, living life to its fullest like the boss she is.
Here are eight ways to flawlessly get over an ex, as told by Jennifer Lopez.
1. Thrive in your career.
There's nothing more attractive than a boss career girl who's motivated, determined and knows exactly what she wants.
JLo stars as an NYPD detective on "Shades of Blue," so don't mess TF around with her.
2. Fall in love with a new bae... when the time is right.
Once you're over your ex and feel it's time to move forward in your life, things will all happen naturally. Don't force anything, but embrace the opportunity at love when it DOES present itself.
Lopez revealed she sees "a future" with her new bae, A-Rod, making us all swoon.
3. Get into a solid exercise routine.
Can we just hold up one hot second here and talk about how many points JLo and A-Rod get on the #CoupleGoals scale after working out together?
Couples who lift together, stay together.
4. Show everyone you still got it, and know how to work it like the pro you are.
… JLo knows how to get the job DONE, no questions asked.
5. Switch up your look for an even better one.
It's undeniable Lopez is crushing it with her beautiful new lob. A fresh, new hairstyle always makes you feel one thousand times better. It's something fun you can do for yourself if you feel you're craving a change.
6. Focus on your family.
... Because family is everything, and they'll always be there to celebrate you through your ups, and cheer you up through your downs.
7. Have all the right moves, and be seen in all the right places.
It's clear who the real winner was in this dance battle.
JLo was straight fire and owned the "washing machine on spin cycle," and the "hot cowboy."
8. "Take the risk or lose the chance."
Take risks, and live life to its fullest... or else time will pass you by.
It seems like JLo didn't let any of the Drake drama cramp her vibes, she just kept on moving and killing it at life.
She didn't miss a beat -- which is what anyone who's trying to get over an ex should take to heart.