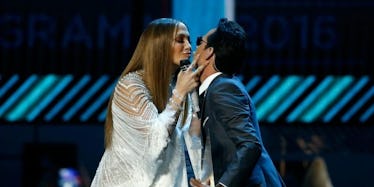 JLo Casually Made Out With Ex-Husband Marc Anthony On Stage While Performing
REUTERS
Jennifer Lopez and Marc Anthony may no longer be a couple, but that didn't stop the pair from sharing a passionate, romantic kiss on stage at the 2016 Latin Grammy Awards in Las Vegas, Nevada.
JLo and Anthony took the stage to treat the crowd to a performance of their new single, "Olvídame y Pega la Vuelta," and afterward, the 47-year-old Lopez gave her 48-year-old ex-husband the Person of the Year award.
But wait, because this magic moment gets a lot better.
After JLo presented the award to her ex Marc Anthony, the crowd chanted "beso," the Spanish word for kiss. Surprisingly, Lopez and Anthony obliged the crowd and shared a very romantic kiss.
WOWOWOW!
During their time on stage, one of the sexiest women alive had nothing but kind words for her ex-husband. She said,
Marc is a living legend. He is a magical and pure artist giving away classics that will stay forever. He will always be many things in my life. He will always be a lot of things to me. He's my kindred spirit. My love.
Obviously, after JLo and Anthony shared that kiss at Thursday night's Latin Grammy Awards, fans started screaming for the pair to get back together.
However, Anthony posted a series of photos on Twitter Friday morning to quickly dispel that notion.
It appears his kisses aren't just for his current wife, Shannon De Lima, and Jennifer Lopez.
Well, there goes that comeback.
I totally understand Marc Anthony's desire to thoroughly prove his kiss with Jennifer Lopez was nothing more than an exchange between two old friends, but did he really need to go up to everyone on his plane and kiss them on the lips?
I mean, some of Anthony's fellow passengers clearly aren't into having their personal space invaded, but hey, the man had to make a point, right?
Citations: Jennifer Lopez and Marc Anthony Share a Kiss at the Latin Grammy Awards After Performing a Duet Together (Us Weekly), Marc Anthony Posts a Series of Kissing Pics With Friends After Smooching Ex-Wife Jennifer Lopez On Stage (Entertainment Tonight)