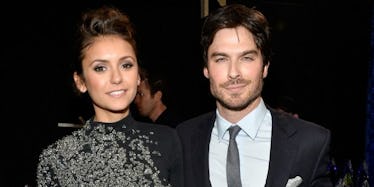 10 Celebs Who Dated Their Co-Stars And Proved Love Is Still Alive
Getty
Celebrity couples come in all shapes and forms. There are the classic actor-director ships, model-rapper romances, and writer-comedian love stories. However, all of those lack in comparison to celebrities who dated their co-stars. It's a beautiful thing, isn't it? They meet, film a movie, spend months together, and end up falling in love.
Some celebrity co-stars remain very good friends for years and years, but I much prefer relationships of the romantic variety. How much better would Ross and Rachel from Friends have been if Jennifer Aniston and David Schwimmer dated in real life? Do you see what I'm getting at here?
Perhaps the most famous of all canoodling co-stars are Brad Pitt and Angelina Jolie. They met on the set of Mr. and Mrs. Smith, and it was truly the relationship heard round the world. I think people are still wearing t-shirts that say 'Team Jennifer.'
Recently, Riverdale co-stars Cole Sprouse and Lili Reinhart reportedly started dating. The two were seen at San Diego Comic-Con kissing and holding hands. Scandalous! The thought of Jughead and Betty dating IRL was almost too much for fans. However, co-stars who date are nothing new in the celebrity world.
Below are 10 celebrities who dated their co-star. Although love doesn't always last, we can still relive what glorious couples these pairs made.
1. Blake Lively and Ryan Reynolds
Reynolds and Lively are damn near perfect. How did these two exquisite looking humans find each other? Hollywood, of course. The two met on set while filming Green Lantern. Although this story has a fairytale ending, it had a rough beginning. When they first met, Reynolds was still married to Scarlett Johansson, and Lively was dating her Gossip Girl co-star Penn Bagdley.
It took awhile for these two to get together, but they now reign as the hottest couple in Hollywood with their two adorable children.
2. Nina Dobrev and Ian Somerhalder
Co-stars who play vampires have a way of hooking up (see Kristen Stewart and Robert Pattinson below). Although Dobrev was frequently quoted saying she would never date a coworker, she fell to charms of Somerhalder. How could anyone resist? The pair dated for three years before splitting up.
Somerhalder is now married to Nikki Reed, and they are expecting their first child. Dobrev is reportedly dating actor Glen Powell. The two have been recently seen everywhere together, including at Dobrev's BFF Julianne Hough's wedding.
3. Robert Pattinson and Kristen Stewart
This was the on-again, off-again relationship that people couldn't turn away from. The couple famous for playing Bella and Edward in the Twilight series were dating in real life and people could not handle it. The couple broke up in 2012 after rumors swirled about Stewart cheating on Pattinson with SWATH director Rupert Sanders.
Part of me never really saw these two working out, but for the sake of Twilight, it was a beautiful romance while it lasted.
4. Ryan Gosling and Eva Mendes
I always found Gosling and Mendes to be the most random couple, but they actually got acquainted at work. The two met while filming The Place Beyond The Pines in 2011. Although Gosling and Mendes have a family together, the two keep their relationship very private.
5. Channing Tatum and Jenna Dewan Tatum
Watching these two dance together in Step Up is almost too much. Seriously, they are the cutest. Also, how awesome was it to re-watch the last dance. Amazing, right?
Channing and Jenna started dating back in 2006. Today, they are married and have a daughter named Everly.
6. Joe Jonas and Demi Lovato
Can we talk about how that hairstyle on Joe Jonas used to be THE hot guy look? Although Jonas and Lovato are great friends now, there was a time when they were romantically involved. They dated for a few months in 2010 after filming Camp Rock together. Jonas opened up about dating Lovato at that dark time in her life. He said,
I felt like I needed to take care of her, but at the same time I was living a lie, because I wasn't happy but felt like I had to say in it for her, because she needed help.
That experience is probably why the two still remain close. I'm glad they're both healthy and happy today.
7. Anna Faris and Chris Pratt
Faris and Pratt are one of the cutest couples in Hollywood. I was super surprised to learn that they actually met on set. Do you remember the movie Take Me Home Tonight? It's OK, I didn't either.
While the movie wasn't a box office success, it did bring these beautiful souls together. Faris and Pratt met at a table read for the 2007 rom-com, and never looked back.
8. Miley Cyrus and Liam Hemsworth
Miley and Hemsworth have had their ups and downs — and everything in between. The Last Song was released in 2010, and produced one of the best couples in Hollywood. They're not married yet, but maybe soon? Please?
Reportedly, the couple has been engaged for a over a year. Actually, they were first engaged in 2012, broke up in 2013, but got back together in 2016. Whew! It's been a wild ride, but glad these two found their way back together.
9. Zendaya and Tom Holland
This is a very new couple, but reportedly the Spider-Man: Homecoming co-stars are an item. A source told People,
They started seeing each other while they were filming Spider-Man. They've been super careful to keep it private and out of the public eye but they've gone on vacations with each other and try and spend as much time as possible with one another.
Plus, they're super cute together. This is not the first time Spider-Man co-stars have started canoodling. Emma Stone and Andrew Garfield dated after meeting while filming The Amazing Spider-Man. The two were together from 2012 to 2015, give or take a few months.
10. Anna Camp and Skylar Astin
Dare I say that this couple is... Pitch Perfect? Don't hate me, I had to. Camp and Astin met in 2013 while filming the aca-mazing movie.  They kept their relationship very private, which worked out for them well. The two were married in 2016. I hope they have lots of singing babies.
Sometimes people find love in all the right places. Even though I was sad to see some of these couples break up, the ones who made it truly are couple goals.